The Barnes Firm Sponsored San Diego River Earth Day Cleanup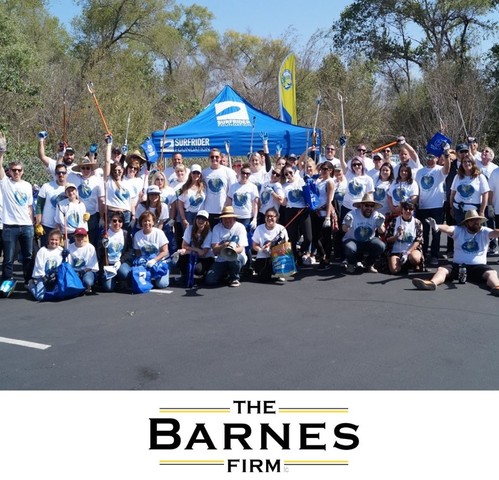 SAN DIEGO -
The Law Offices of The Barnes Firm, a
California law firm focused on accident cases
including the San Diego region, announced that it sponsored a "Best in Class" Earth Day cleanup initiative of the San Diego River. The event, which was part of Entercom San Diego's "1 Day 1 Thing" Sustainability Initiative was held in late April.
The Earth Day campaign centered on the junction of Alvarado Creek and Fairmont Canyon, where stormwater gathers in a basin and collects a tremendous amount of garbage and solid waste. The cleanup effort was a tremendous success. Volunteers picked up approximately 350 pounds of trash and debris that would have otherwise wound its way downstream and into the Pacific Ocean. Considering the huge success of this "Best in Class" event, The Barnes Firm looks forward with great enthusiasm to participating in other eco-friendly activities to do their share in protecting our planet.
The Barnes Firm could not have been as successful as it was without assistance from local stakeholders. The Barnes Firm joined with The Surfrider Foundation, along with volunteers from Entercom radio stations, to make Earth Day 2019 a resounding success. Volunteers worked hard for several hours picking up trash and debris in the San Diego River and shoreline. The San Diego River Park Foundation member's guidance and inspiration proved to be an invaluable resource that added to the significant contribution volunteers made to help keep their community clean.
The event made a tremendous impact on our precious natural resources.
Entercom Rep, M Peter Edelson stated: "Please know this trash would have ended up in the Pacific Ocean and then would have gone into the belly of a large whale…"
For further information,
contact the Law Offices of The Barnes Firm
at 1-800-800-0000.
Background on The Barnes Firm:
The Barnes Firm's experienced personal injury attorneys focus exclusively on accident cases. The firm helps families across California and has offices located in Los Angeles, San Diego, and the San Francisco Bay Area.
For more information about The Barnes Firm visit our website at:
www.TheBarnesFirm.com
The Barnes Firm
633 West 5th St.
Suite #1750
Los Angeles, CA 90071
Office: 800-800-0000
Fax: 888-800-7050