Introducing The All New Indoor Black Satin Shield Truck Cover From CarCovers.com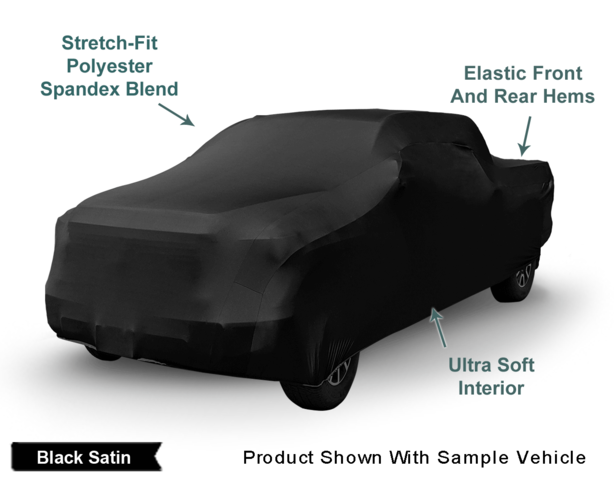 Introducing The All New
Indoor Black Satin Shield Truck Cover
From CarCovers.com.
You've dreamed about this moment for a while now, and it's finally happened. Your beautiful new truck is sitting in your garage, all threats that could cause harm to it have been removed from the immediate area. You're about to head inside to grab an ice-cold beverage and then it happens, the family runs out to see your new truck.
Images of fingerprints, smudges, oil prints all race through your mind, the dollar signs start adding up as you assess the situation that is about to unfold. You feel your gut wrench with the impending repair bill. It's your worst nightmare come true, and uncontrollably you shout "KEEP AWAY FROM THE TRUCK!" Instantly you realize what just happened, the embarrassment takes over and you're standing there with a blank stare as everyone is glaring back at you.
That's when it hits you like a ton of bricks, the lightbulb goes off & it's like being struck by a lightning bolt, you think "if I only had a nice soft truck cover to protect it, this would have never happened."
You snap back to reality, realizing the grave error in judgment you just made, seeing everyone's face staring back at you in total shock and amazement of what just happened. You quickly gather your wits and make the best possible attempt at saving face in front of everyone you just screamed at. Luckily they all started to laugh thinking you were just playing around, the tension in the garage disperses and life goes back to normal, but you cannot help thinking about your new truck and how vulnerable she is.
Introducing CarCovers.com's newest product, The Indoor Black Satin Shield Truck Cover.
This isn't your typical truck cover. If you want a cover with the best fit and is made from the softest material for superior indoor protection for your truck, our Black Satin Shield is the best choice for supreme indoor protection.
The material is an ultra soft satin stretch fabric that hugs the body of your truck perfectly. This unique stretch-to-fit material creates a sleek and desirable look. It also features the softest liner out of all of our truck covers, providing the maximum protection for your truck!
The breathable characteristic of the satin stretch material naturally prevents mold, mildew, and rust. This cover will keep your truck safely stored and looking its very best with an elegant,
high-quality Satin Shield truck cover
!
The double stitched seams provide fantastic durability. Our Black Satin truck cover has an elastic front and rear hem ensures a snug fit too. Stop stressing on the small stuff, enjoy your family, enjoy your friends, and enjoy your beautiful truck.