GAMMA Pickleball Releases New Outdoor Pickleball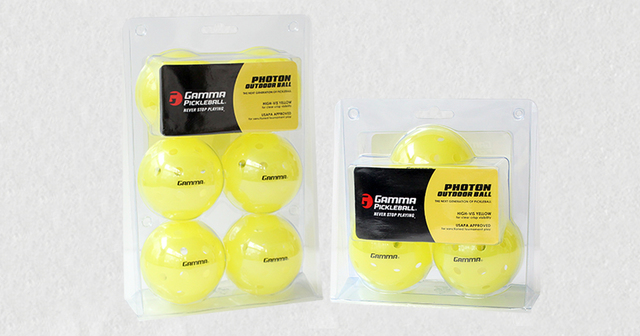 PITTSBURGH – GAMMA Pickleball, under the parent company GAMMA Sports, will release the PHOTON Outdoor Ball in early June 2019.
As the first outdoor ball from GAMMA Pickleball, the PHOTON was created based on the design of the company's successful PHOTON Indoor Pickleball. Engineered for high-level play consistent to other regularly used 40-hole balls, the PHOTON Outdoor ball is slightly softer with notable improvements in durability.
"The ball offers a consistent bounce and flies true through the air," one player commented.
The 40-hole design (compared to the 26-hole design of indoor balls) creates consistent, stable and accurate ball flight in the outdoor weather elements while the ultra-balanced two-piece construction provides a true and consistent bounce. The PHOTON Outdoor is high-vis yellow for clear and crisp visibility when used outdoors.
Available in 3-pack, 6-pack or 60-pack options, the PHOTON Outdoor Ball is USAPA-Approved for sanctioned tournament play.
To view more on the PHOTON Outdoor Pickleball, please visit GAMMA Pickleball's website here.
As a family-owned company with over 45 years of racquet sport experience, GAMMA Sports has utilized its advanced knowledge of composites, plastics and manufacturing techniques to enable the company to create pickleball paddles and balls with materials and methods that few can match.
-30-