Fusion Stone Shares Summer Project Ideas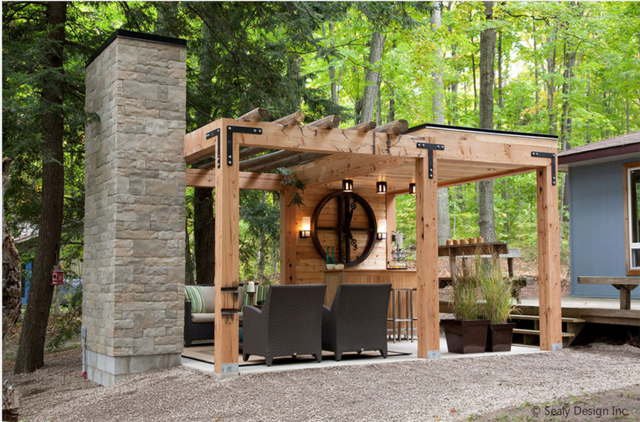 Fusion stone has outlined some ideas that you can implement in your home. The company says
summer is the best time of the year to do some upgrades around your home or cottage
. If you're working outdoors, the weather is generally comfortable enough to get major tasks done with some added shade and without worrying about spring rain.
"Taking on an interior project? You may find it's easier to get an inside job done while your family is outside enjoying the nice weather", according to Fusion stone.
Inside or out, here are a few ways, whether doing it yourself or contracting it out, to make the most of the summer season with Fusion Stone.
Indoor ideas
Bedroom. We spend roughly one third of our lives sleeping! If you add in the time spent in our bedrooms reading, relaxing or watching TV, you'll understand why this space needs to be comfortable and inviting.
Another idea from the company is to consider adding a rustic look with Peninsula Ledgestone as an accent wall. The company says this product can also be used as a border around the windows or doors in your room. The look of this stone adds texture and a natural feel to help you get the most out of a space you already love spending time in.
Basement. After spending all day outside in the sun, you'll probably want a place to cool down and play some games or watch a movie. If you've been thinking of sprucing up your basement or games room, think about adding Fusion Stone to the space. To add a variety of contours, you can create a half wall of our stone veneer around the room. Then place shelving or counter space above it, with a different paint colour as an accent. Together, this will create a distinct but unified space that your family and friends will love to hang out in.
Outdoor ideas
Home exterior. According to Fusion stone, "If you love your home but wish it had a more modern feel, our products can help to create a sleek and stylish look". Consider the addition of Dry-Stack to your home's front exterior, the whole house or around windows and the front door. It adds an aura of stability and refinement, while also looking stunning and intricate. By adding Fusion Stone stone veneer around your front door, it can complement any other materials or colours you may have on your home and impress all who enter.
Bar or sitting area. Summer is all about relaxing and enjoying life in comfort. Incorporating one of Fusion stone products, such as Great Lakes, can help create a beautiful sitting or bar area that your family and friends will be eager to enjoy every weekend. Use Fusion Stone products to frame a patio or deck, to add contour to a smaller space, or include it in your outdoor bar or kitchen area to enhance other materials, like wood or steel.
Landscaping ideas
Any of Fusion stone products will add a truly vintage feel to aspects of your gardens as well. If you have garden boxes, add some of our stone veneer to make them stand out and highlight your plants and flowers. If you have a small garden or tool shed, add the same veneer to it as the garden boxes for a coordinated look throughout your backyard.
Whatever projects you take on this summer, let the dynamic range of stone veneer be a part of it. The distinct and diverse products of Fusion stone are designed to be easily installed and fit with any design style.
Fusion Stone is manufactured by Shouldice Designer Stone that has a rich and proud history of Innovation, Quality and Service. They are an example of the coming together of the beauty, strength, and maintenance free virtues of traditional stone with the ease of installation and affordability of stone veneer.
Fusion Stone is an easy and budget-friendly way to beautifully upgrade your home, inside and out.
Fusion Stone
281227 Shouldice Block Road
Shallow Lake, Ontario
N0H 2K0 CANADA
Telephone: (519) 935-2771 ext.224 or (800) 265-3174
Email:
fusion@shouldice.ca