The Undercroft Announces Kickstarter Campaign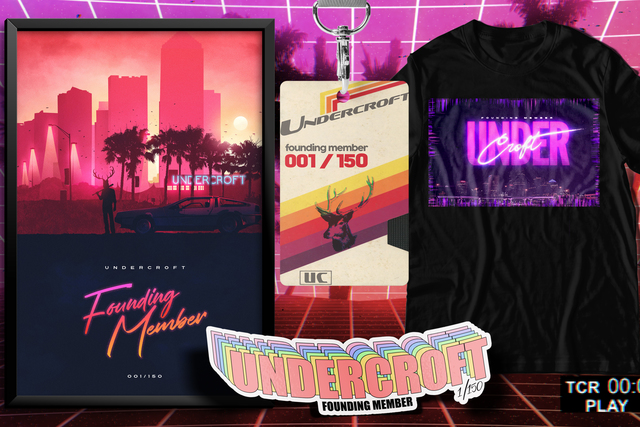 Formalizes effort for cybersecurity hub in Tampa's Ybor City
Tampa, FL – 6/4/2019 – With over 24 billion connected devices worldwide and "cybersecurity" dominating the headlines, one local veteran-owned business wants you to know that security and privacy start with you!
"The 'cyber' industry is no longer a boutique operation, it's everywhere", says Undercroft founder Adam Sheffield. Having spent the last five years working to anchor a cybersecurity hub in Tampa, he is taking things to the next level.
He and his co-founder Chris Machowski have spent the last twelve months building out the second oldest building in Ybor City to set up a ~15,000 square foot facility that will house co-working/co-location space purpose built for the cybersecurity community. Phase 1 includes 7 private offices, 12 dedicated desks, 2 conference rooms, 2 training/meetup bays, a courtyard, and multiple shared common areas.
Through a Kickstarter campaign launched this week, they plan to add a multipurpose media studio and finalize the buildout of a collaboration lab. When complete, the facility will support and empower a diverse community of cybersecurity professionals and students. They plan to organize and host a wide variety of events, classes, and workshops, and produce security focused content.
"Through spaces like the Undercroft, we can do learning that is not just about those formal practices, those formal skills and knowledge sets, but move beyond that into something that positions people to really better understand not only those skills and technologies but how they fit in to a larger community that is actively doing the work of cybersecurity" – Dr. Nathan Fisk
Founders of the Undercroft believe in order to meet the challenges we face in our connected world, a bottom up approach to the advancement of cybersecurity and its practitioners is necessary. To secure the everchanging threat landscape the supply of talent must increase, the skills of current practitioners must always advance, and disruptive security products and services must be developed. In a world increasingly connected by devices, the Undercroft serves as a home and voice for those quietly working to secure our future.
"The undercroft is the first facility of its kind. It brings together every aspect of cybersecurity from industry leading technology companies, to individuals, to startups, subject matter experts and people that are wanting to learn. No one else has ever done this under a single roof. Building a secure and collaborative working environment where cyber professionals can operate independently or together depending on the project, or circumstance is a hard thing to accomplish. At the end of the day the reason it works is because we all share the same goal, to secure our future. – Joy Randels
About the Undercroft
The Undercroft is a member driven cybersecurity guild and development center located in historic Ybor City, FL. We offer secure workspace, tailored resources, and security focused programming for individuals and organizations that seek to grow and advance:
CYBERSECURITY TOOLS & TRADECRAFT
SECURE INNOVATION
NATIONAL SECURITY
For more information visit
www.theundercroft.net
or email
info@theundercroft.net