ESC Environmental Systems Corporation & GMP Engineering exhibiting at HPAPI Summit 2019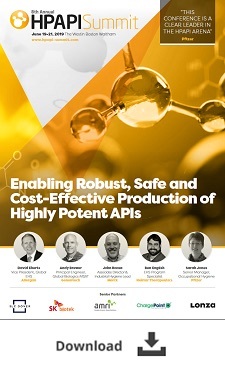 Boston, MA - Two fast-growing critical environment and process engineering companies in the industry are excited to be co-exhibiting at The 8th Annual HPAPI Summit, on June 19-21, in Waltham, MA. Both Environmental Systems Corporation (ESC) and GMP Engineering Ltd are thrilled to be joining so many thought-leaders and influencers in the space.
The HPAPI Summit has been described as both an incubator and catalyst to educate and harmonize across the potent compound development landscape.
ESC specializes in designing critical environments and builds cleanrooms to the most demanding industry regulations and demanding client standards.
"At ESC, we believe in providing our customers with innovative and flexible cleanroom solutions, while meeting strict cGMP regulations with our customers' function and design top of mind," said Vern Solomon, President of
Environmental Systems Corporation
(ESC).
"We will be showcasing our Enhanced Conceptual Design framework and process. We listen and understand WHY and then map that to your project success."
At the same time, GMP specializes in design, engineering and consulting services for process facilities in pharma and biopharma sectors as subject matter experts.
"Our clients enjoy working with our boutique process engineering firm to meet strict regulations in pharma and biopharma industries, with fast-paced deadlines," said Sam Lombardo, President of
GMP Engineering Ltd
.
These two companies bring a unique synergy of experience and expertise to the table and they relish the opportunity to network with, and learn from, influencers in the pharma sector.
They will be co-exhibiting at Booth #2 and all are welcome and encouraged to stop by.
-30-
About ESC
Environmental Systems Corporation designs critical environments and builds cleanrooms to ISO 14644 4, 5, 6, 7 & 8 Requirements.
Our custom manufacturing of the air handling systems for critical environments gives us the advantage of understanding one of the most important aspects of the cleanroom; the close tolerance control of temperature, humidity, air changes and cleanroom pressures to provide cascading pressure differentials.
About GMP Engineering Ltd
GMP Engineering is a unique process technology-rooted engineering company adhering to the standards of current Good Manufacturing Practices (cGMP). We use our expertise to provide customer-driven solutions specializing in hygienic, sterile and high containment process equipment design and validation.
Our company has comprehensive project capabilities to manage and execute feasibility studies, conceptual design, preliminary engineering, detailed design, construction administration, commissioning and qualification.
About The HPAPI Summit
Returning for the 8th year, the
HPAPI Summit
will unite process chemists and engineers with EHS, IH and toxicology professionals, presenting a unique opportunity to gain clarity on how you can enhance every stage of your potent compound development strategy.
Incorporating perspectives from more speakers than ever before and anticipating 120+ delegates, the 2019 conference is shaping up to be the comprehensive event of the series to date.
Email ESC Environmental Systems Corporation