Corporate Finance Associates Advises Columbus Coal & Lime Company on Its Acquisition by Reading Rock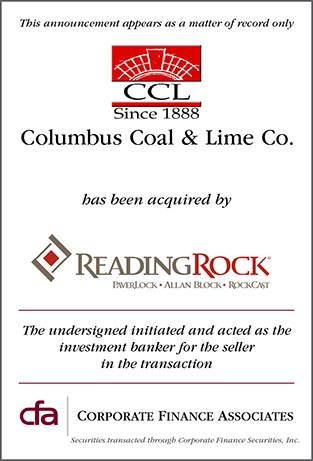 Los Angeles, CA
- June 22, 2019 - Corporate Finance Associates (CFA), a leading middle-market mergers and acquisitions advisory firm, announces that it advised Columbus Coal & Lime Company on its recent acquisition by Reading Rock, Inc. Founded and operated by the Niermeyer family since 1888, Columbus Coal & Lime Company specializes in providing high quality masonry materials, as well as concrete restoration chemicals and fabricated rebar to masons, concrete contractors, paving contractors and both commercial and residential builders. By combining resources with Reading Rock, a 70-year-old family owned and operated building materials company, Columbus Coal & Lime will enhance its product offerings while maintaining best in class customer service.
Transaction Information
- On June 12, 2019, Columbus Coal & Lime Company was acquired by Reading Rock in a private transaction. The terms were not disclosed. Investment banker representation was provided by the
Columbus, OH office of Corporate Finance Associates
, which is led by Mr. Robert St. Germain. When asked about the transaction,
Mr. St. Germain
commented, "It was a pleasure working with the management team of CC&L to bring together two companies with a combined 200 plus year history and corporate cultures that mesh well. We expect it to be a very successful relationship."
About Corporate Finance Associates
- Corporate Finance Associates is a leading international middle-market investment banking firm. It has its headquarters in California and over 30 offices in the U.S., India, Belgium, Denmark, Ireland, Netherlands, Switzerland and the United Kingdom providing middle-market companies with a wide range of merger and acquisition advisory services and access to capital resources. More information is available via the internet at
www.corporatefinanceassociates.com
.
Email Corporate Finance Associates