Snowbound Speeds HTML5 Document Viewing With Latest Enhancements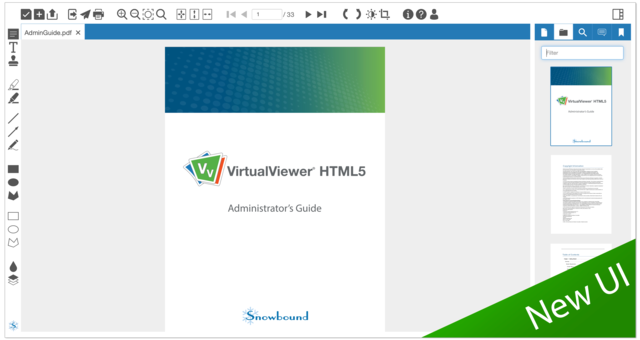 Waltham, MA (June 25, 2019)
-
Snowbound Software
, the market leader in web-based document viewing technology, today announced the release of VirtualViewer® HTML5 v5.0, the firm's
award-winning pure HTML5 viewer
.
The latest version of the viewer features significant speed and performance enhancements for processing large documents, as well as a new user interface with an intuitive design.
"Our customers are constantly interacting with large documents throughout their day-to-day workflow," said Snowbound CEO Simon Wieczner. "This release makes it easier than ever for them to view, manage, and collaborate on their documents without wasting valuable time waiting for a document to load, all while still retaining the value of high speed server processing and group access."
VirtualViewer HTML5 v5.0 significantly improves the processing and load times of MS Office documents, including docx, xlsx, and pptx files. Most noticeably, large files now load at very fast speeds thanks to the viewer caching layout information so the processing only needs to be done once regardless of whether the first or final page of a document has been requested.
"While beta testing VirtualViewer HTML5 across our environments, I experienced improvements in load times for images of varying types and sizes, with results that ranged from 20% to 50% faster," said Jason Clippert, Partner at H2 Integrated Solutions. "The biggest improvement was seen on large images where our load times were cut in half."
In addition to the performance enhancements, the viewer's other new features include:
New User Interface Design - The viewer has been updated with a sleek, new modern design that is more intuitive and responsive for users. Icons are now displayed as an icon font, rather than individual images loaded by URL. This enhancement speeds up the loading time of the viewer and provides a smoother user experience.
Annotation Logging - A new tab in the thumbnail pane lists metadata for the annotations in a document, including the type of the annotation, the page that contains it, and its creation and most-recent modification details. The information is updated live as the user creates, deletes, and modifies annotations which streamlines document collaboration.
Expanded Font Support - Users now have the ability to add specific font files to the viewer without having to install the fonts on the entire server.
Pricing and Availability
VirtualViewer HTML5 v5.0 for Java is available now and will be available for .NET later in 2019. Visit
http://html5.snowbound.com/
to demo. For more details, please call (617-607-2010) or visit
Snowbound.com
.
Snowbound's VirtualViewer HTML5 document viewer is a pure HTML document viewing solution enabling file retrieval through a universal web application. It does not require any client-side installation or plug-ins such as Flash, Adobe, or Office. VirtualViewer HTML5 works with any modern browser, provides on-the-go mobile document viewing, and delivers flexible cross-platform support. We offer a variety of connectors for several popular ECM applications, as well as a built-in-interface that offers a suite of APIs that allow you to integrate the viewer with any repository, including homegrown applications. OEM and subscription options available.
###
Who is Snowbound Software?
For over two decades, Snowbound Software has been the independent leader in document viewing and conversion technology. It plays an integral role in enhancing and speeding company workflows for the Fortune 2000, including insurance claims processing, financial transactions, and more. Snowbound excels in providing customers with powerful solutions for capturing, viewing, processing, and archiving hundreds of different document and image types. Thanks to its pure HTML5 technology and multi-environment support, Snowbound's products operate across all popular platforms and can be easily integrated into new or existing enterprise content management systems. Nine of the 10 largest banks in the United States (seven of 10 in the world), as well as some of the biggest healthcare providers, government agencies, and insurance companies rely on Snowbound for their mission-critical needs.
For more information, contact us at 617-607-2010 or
info@snowbound.com
, or visit
www.snowbound.com
.
Twitter:
http://twitter.com/snowbounds
LinkedIn:
http://www.linkedin.com/companies/snowbound-software
Facebook:
http://www.facebook.com/snowboundsoftware.
###
VirtualViewer is a registered trademarks or registered trademarks of Snowbound Software Corporation.