Fusion Stone Says It's Time To Win Again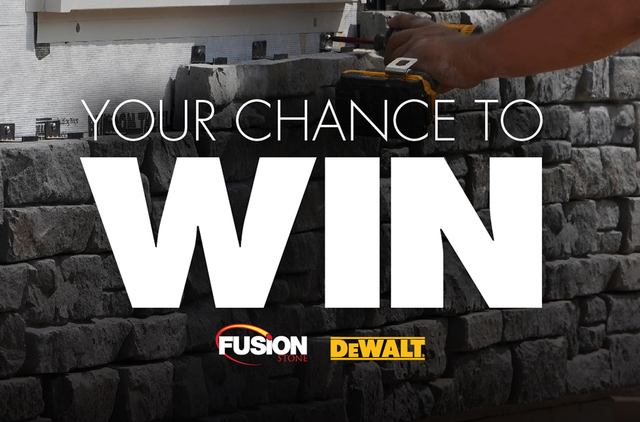 Fusion stone is excited to announce the 2019 Fusion Stone Contest running across Canada from July 1 to September 30, 2019.
This year, the company is especially proud and excited to welcome DEWALT® as a prize partner. The firm says
customers can now win $4,000 of fusion stone + a dewalt® cordless combo kit.
"Fusion Stone and DEWALT are industry leaders and the perfect team to help you execute the Fusion Stone project of your dreams", the company remarked on her website.
"To participate, customers can go to the Fusion Stone website at
www.winfusion.ca
and complete the quick and easy entry form. It's as simple as that!", they further added.
Fusion Stone, the company says, is a great way to update your home or business both inside and out. And it can be done with just a few tools like those included in the DEWALT® Cordless Combo kit prize.
Customers can now select from three Fusion Stone profiles and multiple colour choices. Great Lakes has a rugged, traditional feel. Dry-Stack is tightly stacked with a clean, finished appearance. Peninsula Ledgestone features the contemporary look of variable length runs that are offset both vertically and horizontally. Fusion Stone has something for everyone! the company revealed.
Fusion stone also added that the product requires no mortar. That means quick installation with very little mess.
For more information about Fusion Stone and DEWALT® customers can visit their websites at
www.fusionstone.ca
and
www.dewalt.ca
and they can also enter the contest there.
Fusion Stone is manufactured by Shouldice Designer Stone that has a rich and proud history of Innovation, Quality and Service. They are an example of the coming together of the beauty, strength, and maintenance free virtues of traditional stone with the ease of installation and affordability of stone veneer.
Fusion Stone
is an easy and budget-friendly way to beautifully upgrade your home, inside and out.
Fusion Stone
281227 Shouldice Block Road
Shallow Lake, Ontario
N0H 2K0 CANADA
Telephone: (519) 935-2771 ext.224 or (800) 265-3174
Email:
fusion@shouldice.ca