Charge N Go Networks Announces New Charging Stations to Its Lineup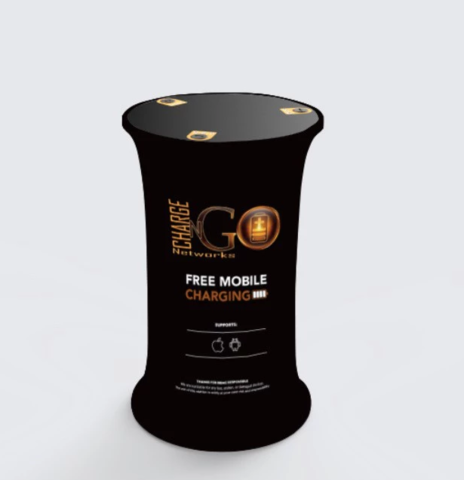 Decatur, GA
– Specializing in mobile phone charging stations, kiosks, and lockers, Charge N Go Networks is excited to announce the release of three new charging stations to its lineup. The new Phantom, UFO, and Tiger charging stations include a wide range of standard features and options which have been added to help meet customer demand.
The Phantom charging station is a portable table-type model. It is quick and easy to set up and breakdown in seven minutes. The standard Phantom model weighs 30 pounds. If the optional internal battery is added to the model, the total weight is 50 pounds.
The Phantom is well suited for a wide range of businesses that want to offer access to charging stations for their clients and customers. The model has two wireless charging pads and three 3-in-1 charging cable connections. It can charge up to eight devices simultaneously.
In addition, customizable advertisements can be added to the exterior of the charging station base, as well as to the acrylic sheet that goes on top of the unit.
The UFO charging station is well suited for hotel rooms, bars, pubs, cafes, and lounges. It is a single charging station that features a wireless charging pad and a 3-in-1 retractable charging cable. Installing the UFO is easy as securing the top of the charging station to the base through a table or other solid flat surface.
The Tiger charging unit is a single unit that is easy to mount to the side of a desk, under a table, or another such location. It features one Apple lighting charging cable and a 2-in-1 Y cable with a micro USB connection and a USB Type-C connector. The Tiger is a great choice for hotels, resorts, restaurants, and shared office spaces.
Each of the three new charging stations can be either leased or purchased directly. The use of charging stations can help improve revenue streams for businesses of all sizes through vending, advertising, and backlit billboard display opportunities.
For additional information about Charge N Go Networks and the company's three new charging stations, please feel free to visit their official website at
www.chargengonetworks.com
or contact a representative by phone at 404-936-8119.
About Charge N Go Networks
Charge N Go Networks offers access to a wide range of mobile device charging stations and digital lockers for businesses of all sizes. Their products offer convenience to customers while creating advertising opportunities to increase brand exposure. The company also provides access to high-quality charging stations for venues, events, parties, new product launches, tradeshows, and conferences.
Email Charge N Go Networks