New Jobs, Hot Cars and Cooler Living Heading to Madera with Grand Opening of The Tint Shop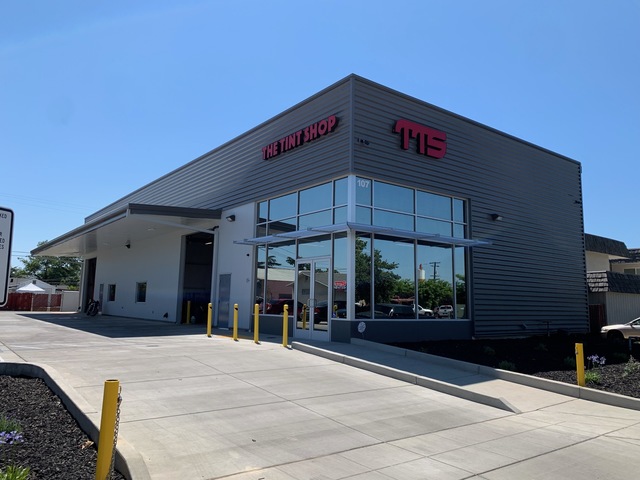 July 13, 2019 – Solar Gard, the San Diego-based leader in window film technologies, is proud to announce its longtime partners' official opening of The Tint Shop, a high-end automotive and architectural window film installation facility in Madera, California. A Grand Opening celebration will take place Sunday, July 14, from 11:00 am – 3:00 pm, with a formal ribbon-cutting planned for 11:30 am, at the new facility located at 107 Cypress Street, Madera, CA 93637.
"We are grounding our roots in the city where Joe was born and raised," said Carmen Flores, co-owner of The Tint Shop. "It is the years of support from this local community that has allowed him to envision and construct this beautiful new building. Establishing the next chapter of our business here allows us to give back to Madera and the surrounding cities that have been pivotal in our growth."
The Tint Shop will be adding five new positions, including a full-time management position and four new installation specialists, to their existing team of managers and installers. Owners Jose (Joe) and Carmen Flores have built a reputation of providing high-end window film installations as Joe's Mobile Tint, and will be expanding on that brand with The Tint Shop.
During the Grand Opening this Sunday, The Tint Shop will host a classic and future car show, featuring vehicles ranging from McLarens, Mustangs and Rolls Royces, to classic cars from the '50s and '60s. Tours of the new facility, raffles, demonstrations, free food, and live radio remotes will also be held during the festivities.
"Supporting this kick-off event gives us the opportunity to thank the Flores family for their many years of outstanding partnership, and help celebrate their new facility and brand with local customers," said Lindsay Webdell, Channel Market Manager, Solar Gard. "Being here also lets us help the community know about ways we can keep their vehicles and homes cooler, as well as their schools and businesses safer. The public is still learning about the protection offered by high-end solar control and safety window film, and in warmer climates like Madera's drivers and homeowners can benefit in so many ways."
Solar Gard is sending representatives from their global headquarters located in San Diego, California, to attend the Grand Opening this Sunday, July 14, from 11 am to 3 pm. Interviews and visual demonstrations of safety and solar control products will be available at the Grand Opening.
For more information and interview requests please contact Bill Trifiro, TriSvara, 540-440-1100,
bill@trisvara.com
.
Contact Information
Bill Trifiro
TriSvara
6174138653
Contact Us