The PRLeap Anniversary Sale Starts Today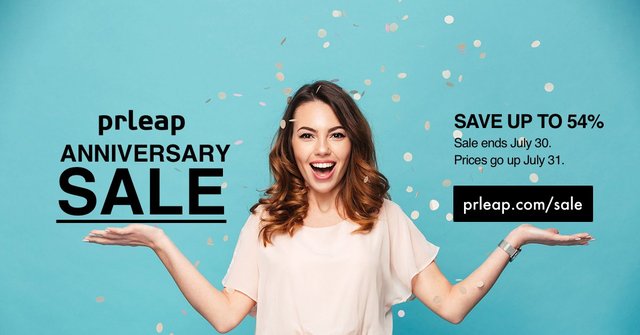 San Diego, CA - The
PRLeap Anniversary Sale
- our biggest sale of the year - is here. Customers can save up to 54% off our most popular press release packages. The special deals last for seven days only through July 30th
"This year the PRLeap Anniversary Sale is in celebration of our sweet sixteen," said Mario Lozano, PRLeap co-founder. "We'd like to thank our customers, friends and family for 16 years of support, encouragement and referrals."
The PRLeap Anniversary sale is our biggest sale of the year. Customer can shop these awesome deals for the next seven days:
Save 54% on 16 press releases, just $995
Save 51% on 6 press releases, just $395
Save 27% on 2 press releases, just $195
Plus we're including $30 amazon gift cards with purchase as part of the PRLeap Anniversary Sale.
For more details on the PRLeap Anniversary Sale, checkout
PRLeap.com/sale
ABOUT PRLEAP
PRLeap is a flat-fee press release distribution service, so you never pay extra to add images, videos or links to your press release. PRLeap was founded in 2003 by Mario & Merrick Lozano.