Educators Zip & Climb for Free at The Adventure Park at Virginia Aquarium, August 19 & 21 for "Educator Days, 2019"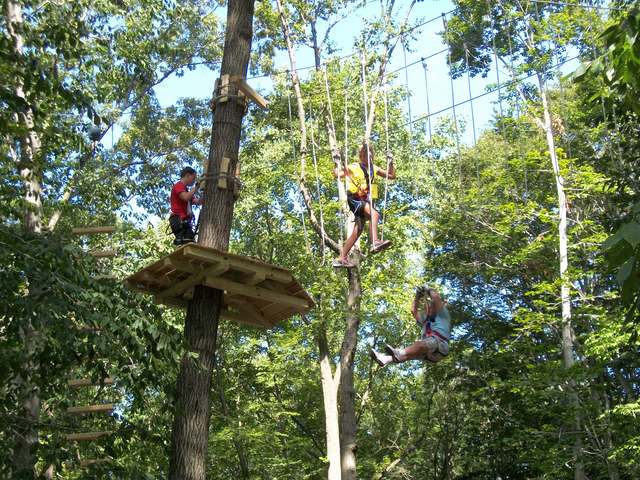 The Adventure Park at Virginia Aquarium
, located at 801 General Booth Boulevard, Virginia Beach, VA, has found a unique way to thank local educators for their contributions to the community while showcasing the idea that a "zip and a climb" at The Adventure Park is "a natural" for school field trips. It is inviting school teachers and administrators to make reservations to try The Adventure Park themselves, for free, on Monday August 19 and, Wednesday August 21, 2019.
All that teachers and administrators have to do to reserve their visit is phone the Adventure Park at (757) 385-4947. Then, when they arrive at the Park, to present their educator ID at the registration desk and they're good to go.
Friends and family are invited to climb along with the educator and enjoy a 20% discount for their tickets when reserved at the same time.
"Educators are such an important part of our community," said Adventure Park CEO, Bahman Azarm, "Climbing is not just fun, it is also an educational activity that supports problem-solving skills, collaborative skills, self-confidence and physical fitness. We want teachers to get to know our Park for themselves. And we are sure they will immediately see its potential for school field trips. Climbing at The Adventure Park is perfect for school groups because it is totally inclusive; we have multiple courses to choose from to suit different ages and abilities."
- About The Adventure Park -
The Adventure Park features a special combination experience of challenge bridges combined with zip lines between the trees that keep people coming back for more. The Park's friendly staff is available to answer questions and assist from the moment customers arrive to the moment they conclude their climb and return home with satisfied "I did it!" smiles.
The Adventure Park is not one single aerial treetop trail but a variety of different, color-coded aerial trails of differing challenge levels—beginner through expert—that climbers choose from depending on their age or climbing experience. There are trails suitable for kids, teens, adults and groups. These trails consist of platforms installed in the trees and connected by various configurations of cable, wood and rope to form "crossings" of different kinds including the ever-popular zip lines. Climbers wear harnesses which are doubly secured to safety cables using the Park's "always locked on" system of interlocking safety clips. Before venturing onto the trails climbers receive an interactive orientation and practice session.
The Adventure Park at Virginia Aquarium
is designed, built and operated by Outdoor Ventures. For hours and prices click here. For further details and updates please visit
www.VirginiaBeachTrees.com
, email
Info@VirginiaBeachTrees.com
or call (757) 385-4947.
Email The Adventure Park at Virginia Aquarium