ConsuNova extends its European Avionics support with establishment of ConsuNova EU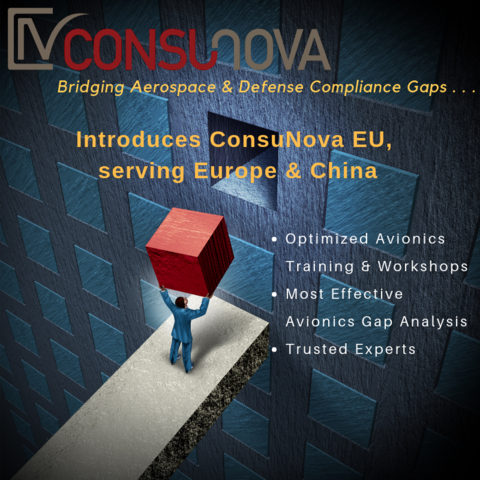 ConsuNova announces the establishment of ConsuNova EU.
ConsuNova has taken another step forward in response to high market demands by introducing ConsuNova EU. Lead by
Martin Beeby
, ConsuNova's Head of Advanced Avionics Systems and ConsuNova EU Managing Director, he aims to build on existing capabilities to provide expert local support within Europe and enhancing the global potential of the company.
Reza Majidi, ConsuNova CEO, said "We are very excited to offer our customers local expert support in Europe and to have Martin as part of the ConsuNova family. His combination of expertise and experience will be a significant factor in the success of ConsuNova EU, acting as a great bridge between our European customers and the global ConsuNova team".
Martin Beeby brings with him extensive experience from his more than 25-year career of Avionics Systems, Software and Hardware development. He also has a hugely valuable technology experience from his contributions to the DO-178C working group Model Based Development and Formal Methods Supplement to his experience with advanced technologies such as Integrated Modular Avionics applications, Operating Systems, OpenGL Drivers, and FADEC's.
Andrea Sanchez, European Business Development Manager, adds: "There is a great demand for Avionics Systems, Software and Hardware mastery in Europe. ConsuNova EU is now ideally placed to provide the high quality and in-depth training and support required to make our customers successful in this competitive market".
As compliance and certification experts, ConsuNova, Inc. works on both commercial and defense projects around the world. This expertise keeps us at the forefront of technology and regulatory trends. ConsuNova prides itself with industry best practice by integrating the two into modern avionics and aerospace projects. ConsuNova EU will also spearhead the continued ConsuNova market expansion into the China region leveraging Martin's reputation and experience in China.
ConsuNova continues to thrive by producing effective compliance solutions and services to the aerospace and safety-critical industries.
ConsuNova EU upcoming events:
Meet our team (ConsuNova Boot 703) during AEROSPACE TECH WEEK in Toulouse, France (Mar 18 & 19, 2020).
About ConsuNova
ConsuNova is a leading global provider of certification, compliance engineering services and solutions for safety-critical systems to the aerospace and defense industries (
https://www.consunova.com
). ConsuNova provides ARP 4761, ARP 4754A, DO-200A, DO-254, DO-178C Compliance Solutions faster & in the most cost-effective way.
ConsuNova: Bridging Aerospace and Defense Compliance Gaps …