Things you Should Know About Danisa Butter Cookies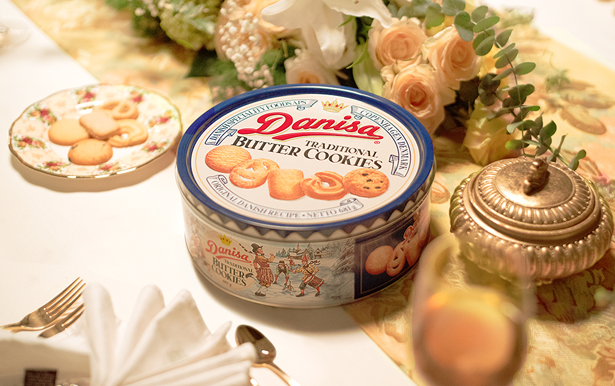 Aside from the abundant festivals and its hygge culture, Denmark is also famous for its butter cookies. Who doesn't love sitting for a leisurely snack with a pot of real tea and the deliciously rich taste of traditional Danish butter cookies? These authentic butter cookies are a delicate and delicious snack that was often served to European nobility and royalty centuries ago. Although they are a popular treat throughout Europe today, they were served often during special occasions such as Christmas, and so were seen as an extremely decadent treat.
It begins with a highly-guarded yet timeless recipe, passed through the hands of Master Bakers that made the Danisa Butter Cookies a favorite of gourmet pastry lovers. The irresistibly buttery and delicious taste comes from high-quality butter, perfectly balance with wheat flour and all-natural ingredients in a crisp and rich package.
Danisa Butter Cookies
come in a variety of shapes, again a nod to their noble past. The Danish Specialty Foods ApS tightly monitors the recipe and production to ensure that every single batch of Danisa Butter Cookies is a perfectly cooked golden brown with a tempting buttery aroma.
Today, the basic Danisa Butter Cookies are divided into three variants. The first one is the Traditional Butter Cookies. The 'plain' style butter cookies that are mixed using nothing but butter and milk for taste. The next variant is the Choco Cashew Cookies, butter cookies with chocolate and cashew nuts that are great with coffee. This smooth and crunchy cookie is a firm favorite with nut lovers. The third one is Currants. This fruit is a popular addition to biscuits around the world, but Danisa Butter Cookies delivers a flavor like no other by using only the freshest currants resulting in a sweetness delicately balanced with tart notes.
There are also Filled Butter Cookies, which are divided into two variants: Choco-Filled Butter Cookies and Pineapple-Filled Butter Cookies. The Choc-Filled cookies are made with milk, butter, and all-natural ingredients that have been expertly blended with a rich chocolate filling resulting in a rich and velvety treat. Last, but not the least, Pineapple-Filled cookies are ideal for those who like a sweet fruity surprise hidden in their butter cookies.
These cookies are absolutely delicious, made with high standards and unparalleled craftsmanship, every single tin of cookies is an absolute delicacy. Ideal for treats, as well as sharing with the family, every tin of Danisa Butter Cookies is a guaranteed favorite!
About Danisa Butter Cookies
Danisa Butter Cookies is made with Authentic Danish recipe, that could be a perfect gift for any occasion and also accompany the intimate delightful time with your closest ones. Made using the finest quality ingredients for the excellent quality favors, Danisa Butter Cookies offers luxurious variants of traditional butter cookies, choco cashew butter cookies, and currant butter cookies. Delighting consumers around the globe with its buttery aroma, golden color, and taste that melts in the mouth, Danisa is a perfect prestigious butter cookies for gifting.
Click Here to
Danisa Butter Cookies Website