The Effectiveness of Fiber Lasers for Engraving Explained by Matt Wallis of SPI Lasers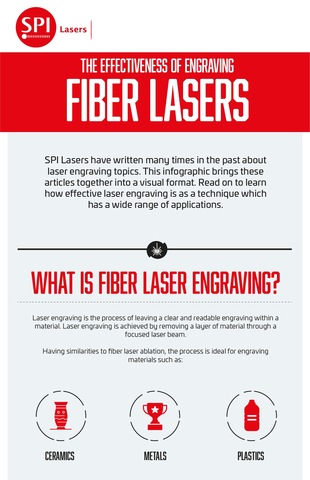 SPI Lasers have created an infographic, which is part of a series of all the eight main applications, which
their fiber lasers
support. This infographic has been written to simplify the science underlying the technology.
The infographic focuses on the engraving capabilities of fiber lasers, which can be used to engrave ceramics, metals, plastics, rubber and silicon. The infographic features stunning imagery, uses clear English and can be ready in about two to three minutes. Matt Wallis, the Head of Marketing Communications at SPI Lasers spoke to us about this infographic, which is part of a series.
We asked why SPI Lasers produce this infographic? Matt replied, "First of all this is one of a series of infographics we have created for the applications supported by our fiber lasers. Engraving is a particularly important application for our customers. We chose an infographic format as it quickly and conveniently conveys a lot of information. The infographic will be an informative read."
When we say "fiber laser engraving", what is meant exactly? Matt explained, "We define this in the infographic. Fiber laser engraving is simply the process of engraving a mark on various materials using a fiber laser. The process called irradiation is non-contact and vaporises the material to create an engraving mark."
With an increase in the use of fiber lasers comes a corresponding decrease in the use of other more traditional techniques such as hand engraving and CNC engraving. We explored with Matt some of the benefits and advantages of fiber laser engraving. Matt said, "One of the main parts of the infographic are the list of benefits and advantages. I would advise anybody to read the infographic for themselves, to learn these."
To summarise, these benefits of fiber laser engraving include:
Reduced costs of operation – reduced power usage and costs saved from some of the benefits below
Improved safety and welfare to employees – a highly automated task which is fast and is totally non-contact, so the employee won't come into contact with the material
Environmentally friendly – no chemicals are used, there is very minimal waste as the material is vapourised, rather than forming a sludge or other debris
Precision – engravings are precise and can be applied to a range of depths with even the most delicate of materials
There are a wide number of applications of engraving across many industries. These are featured in the infographic and include awards (plaques and trophies), adding messages and hallmarks to jewellery, adding serial numbers and other information to parts and products (especially metal) and also to remove thermal barrier coats. Matt continued, "We receive enquiries across many industries asking how our fiber lasers can be used for engraving. These lasers can be used for any type of engraving, which means most industries can benefit. It's also worth remembering that our lasers are versatile and can also be used for other related processes such as cutting, drilling, welding and even 3D printing. This makes them ideal as part of a manufacturing line and also means our lasers can be purchased with more than one type of application in mind."
To learn more about engraving with fiber lasers please view the infographic, published by SPI Lasers by clicking the following link:
https://www.spilasers.com/application-engraving/how-laser-engraving-works
To learn more about fiber lasers and how they can help with engraving and many other applications, visit the SPI Lasers website at
http://www.spilasers.com
.
About SPI Lasers
Founded in 2000, SPI Lasers are a fiber laser manufacturer. With headquarters based in Southampton, UK as well as offices and training facilities around the world, the business has a truly global reach for their range of Continuous Wave (CW) and Pulsed fiber laser models.
Engraving is a popular application for their fiber lasers, but other uses include 3D printing, ablation, cleaning, cutting, drilling, marking and welding.
Contact information
Matt Wallis
SPI Lasers UK Ltd
6 Wellington Park
Tollbar Way, Hedge End
Southampton, SO30 2QU
United Kingdom
Tel: +44 (0) 1489 779 696
Contact Form:
https://www.spilasers.com/contact-me