San Mateo Harvest Festival Features a Plethora of Handmade Holiday Crafts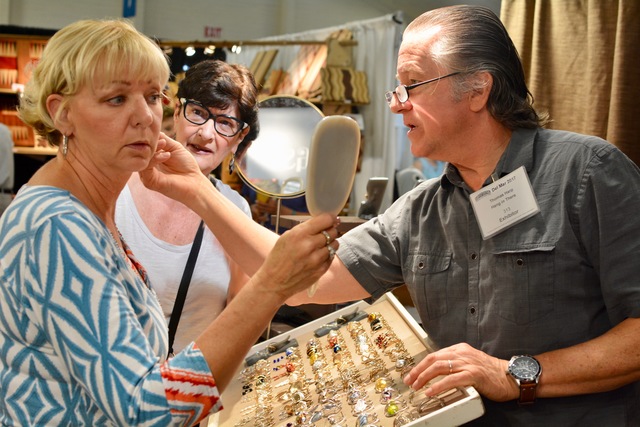 The San Mateo Harvest Festival returns to the San Mateo Event Center on November 15-17 with a unique twist on traditional Holiday shopping.
The Harvest Festival is known as the largest indoor arts and crafts show on the West Coast, combining more than 24,000 American handmade and embellished gifts, live entertainment, specialty foods, and a hands-on KidZone.
Guests can shop from items like original art, jewelry, clothing, blown glass, specialty food, toys, décor and much more. Attendees can visit with each artist, get items personalized, and learn firsthand about each product they purchase.
Throughout the day, the Harvest Festival also offers live music and family entertainment. Tom Rigney and Flambeau, a band playing a distinctive brand of Cajun Zydeco music, will have guests dancing in the aisles, while comedian John Park will bring the laughs with his popular "Funny Waiter" show. Plus, strolling performers will be roaming the festival grounds and entertaining guests as they shop.
This year, the KidZone will be hosted by Messy Play Kits, a local company who creates fun, educational STEAM learning kits for kids. Children of all ages will be able to participate in an exciting slime making workshop.
The San Mateo Harvest Festival is proud to welcome back the Peninsula Humane Society as its official community partner. The non-profit will receive half of the proceeds from all shopping bags sold, as well as all the donations collected from the Parcel Check. The PHS will also hold a mobile adoption center at the front entrance on Saturday and Sunday.
"We started 47 years ago in San Francisco as a tiny craft fair and today we have evolved to nine shows all over the state," said show owner Nancy Glenn. "We are proud to continue to bring our attendees such a diverse shopping experience, all in a fun and festive setting."
What: The San Mateo Harvest Festival® Original Art and Craft Show
When: November 15-17, 2019
Where: San Mateo Event Center (1346 Saratoga Dr, San Mateo, CA 94403)
Hours: Friday 10 am – 5pm, Saturday: 10am – 6pm, Sunday: 10 am – 5pm
Tickets: Adults: $9, Seniors (62+) and Military: $7, Youth (13-17): $4, Kids 12 and Under: Free (Re-entry valid all weekend with proof of hand stamp)
Info: Email
info@harvestfestival.com
or visit
www.harvestfestival.com
Email The Harvest Festival