OCD Tech is Now A Member of MassTLC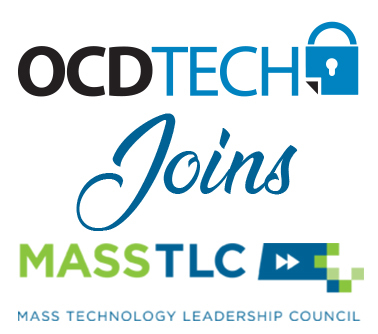 OCD Tech is excited to announce its membership in Massachusetts Technology Leadership Council (MassTLC), the largest and most powerful technology association in the region. Hosting more than seventy (70) conferences and events annually including Boston TechJam, NewCo Boston, The MassTLC Leadership Awards, and TRANSFORM to name a few, MassTLC is an organization that has been at the epicenter of growth within the technology sector for more than 30 years.
"We are thrilled to have OCD Tech join the MassTLC community." says CEO of MassTLC, Tom Hopcroft. "As the largest tech association in the state, OCD Tech will have the opportunity to connect with other leaders and participate in our work to continue to retain and grow Massachusetts as an innovation hub."
Proudly servicing clients across a broad array of industries including Banking, Defense Contractors, Auto Dealers, Higher Education Institutions, and Not-for-Profit Organizations, OCD Tech has enjoyed dramatic and sustained growth since the division began back in 2012. A team of just one (1) when it was first established, it is now twenty-five (25) members strong and ranks number 22 on the Boston Business Journal's Largest IT Consulting Firms in Massachusetts List.
"Aligning ourselves with a group dedicated to accelerated growth, innovation, and development within the technology space was just an obvious choice for us," says Principal Michael W. Hammond, who heads up the OCD Tech IT Audit and Security practice at O'Connor & Drew, P.C. Successful businesses partner with other successful businesses in the industry and the ability to continue to network and learn from top professionals within the ever-changing technology sector is mutually beneficial. We look forward to finding new talent to join our growing organization, working with new clients to help navigate the often intimidating cybersecurity landscape, and networking with top industry professionals to share valuable information."