Completely Customizable Vow Renewal Invitations Premiered on BasicInvite.com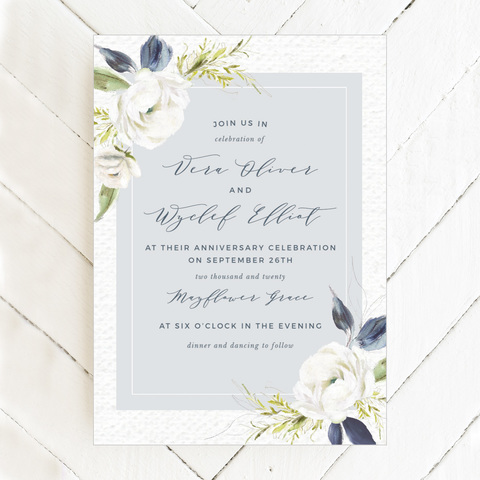 The well-known online stationery company, Basic Invite, has just recently released over sixty brand new innovative vow renewal invitations. From floral borders to
vintage-inspired invites
, they now display a plethora of unique vow renewal invitations specific to everyone's needs. These new templates are entirely customizable, complete with foil options of silver, gold, and rose gold color variations, fitting for
fall
, winter, or any season your renewal is held in. Over one hundred and eighty colors to select from and the classic five by seven product sizing puts these new invites on the map. Other features related to this new line are Basic Invites favorited 'Peel and Seal' included envelopes, five high-quality paper types to choose from, and three addressing options of the customers picking.
Basic Invite CEO and founder, Brock Bacik, recently stated, "Branching off a bit from classic wedding invitations has added a welcomed variety to our site, and our new vow renewal invitations are just proof of that." He continued by saying, "There is no better way to celebrate timeless love, and a couple's commitment to each other over some time is something to be cherished and celebrated. We hope our vow renewal invitations give our customers just what they need to plan that special event and make lifelong memories for years to come." On the Basic Invite website, vow renewal invitations can be found under the 'Wedding' tab on the left-hand side. Visit
BasicInvite.com
to browse their new line of vow renewal invitations and more.
About Basic Invite
Located in one of the top ten fastest-growing cities in America, Southern Utahs, Saint George is where Basic Invite and its full-time employees reside. Founder, Brock Bacik, and Co-Founder, Eric Mortensen, started Basic Invite in the year 2006 with dreams of creating a successful stationery company that gave multiple audiences the chance to customize their invitations to suit their specific event completely. Now serving numerous countries such as the United States of America, Canada, Australia, New Zealand, Ireland, Scotland, England, and Wales, Basic Invite is ever-growing and aims to supply their 'Truly Custom' templates to all. A hard-working, continuously growing staff provides a real-time live chat with their customer's service representatives or a personal phone call if requested. For more information on BasicInvite.com products and services, email:
support@basicinvite.com
.