Incredible Adventure Kings LASER technology set to revolutionise the 4WD industry!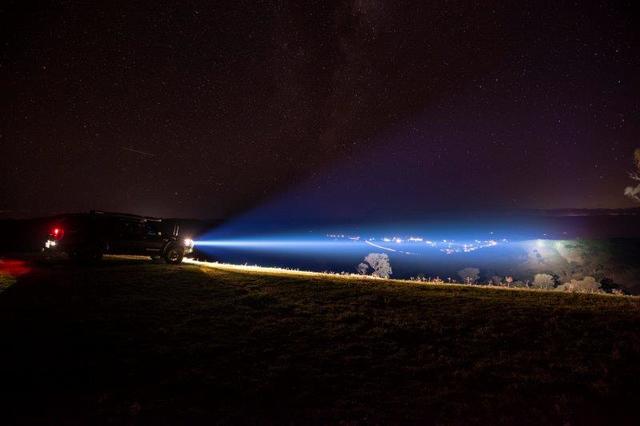 Adventure Kings have earned a reputation as being one of the most trail blazing, movers and shakers of the aftermarket 4WD and vehicle accessory market. The latest technological revolution this company has embarked on, is to take advantage of the power of laser beams to enhance the overall reach and improve the high performance of the comprehensive and best selling LED Driving light range!
The advancements are easily found at first glance when looking at the BRAND NEW Adventure Kings 8.5" Laser Driving Lights, which feature the striking and unique Laser reflector right at its heart. This update is the natural evolution of LED lighting technology, pursuing not only the brightest output but also some of the furthest reaching vehicle mounted driving lights currently found in Australia!
Coupling together the powerful spread of 24 of the already impressive performance Osram LED's and the penetrating performance from the powerful central laser module. The dazzling output is unparalleled reaching out to over 1.7km away from the source, whilst also retaining the incredible IP68 Waterproofing and 12v + 24v Compatibility with the entire range of Adventure Kings easy D.I.Y. wiring harnesses, making the brand new laser technology driving lights one of the most value packed high tier driving light packages available in the market, being suitable for usage even on the front of big trucks running 24V systems.
The release of these Incredible performance Adventure Kings 8.5" Laser Driving lights is sure to rattle cages in the 4WD accessory and aftermarket vehicle lighting industry, thanks to the competitive price and rugged design, the Adventure Kings 8.5" Laser Driving Lights are the new platinum standard in Aussie driving lights.
Just as with many new release products within the Adventure Kings Range, the Adventure Kings 8.5" Laser Driving Lights are backed by a 24 month hassle free warranty providing confidence in reliable performance for years to come.
For more information on the entire range of Adventure Kings LED Driving Lights head to
www.4WDSupacentre.com.au
, call the expert team for accurate and helpful advice on 1800 88 39 64 or visit one of the well stocked dealer or company stores to see the item first hand.