TermScout Releases FREE Passenger Rights Guides for Top-Ten U.S.Airlines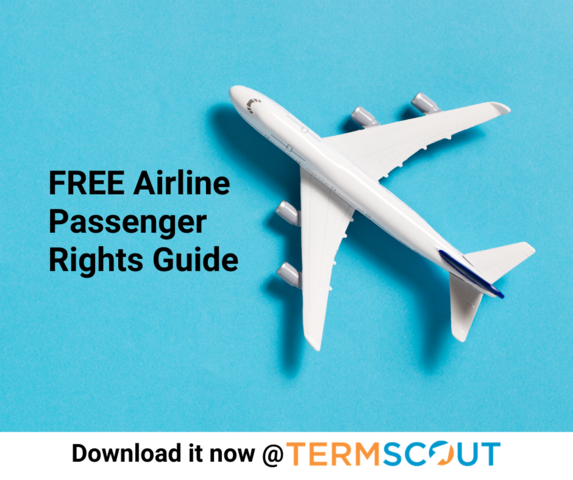 DENVER, CO. (November 27, 2019)
– TermScoutTM, a legal-tech startup and participant in the LexisNexis Legal Tech Accelerator, has just released a set of free Passenger Rights Guides for the top-ten U.S. airlines. These guides are the first ever of their kind. They provide a fast and easy-to-understand way for travelers to quickly know their rights when something goes wrong during air travel.
"It's impossible to exercise your rights if you don't know them. We created these guides to give back to the community because air travel is a place where so many things go wrong – especially during the holiday travel season. It turns out we have rights when something goes wrong, and those rights are set forth in the contracts we sign when we book tickets" said Otto Hanson, TermScout's CEO. "It's not uncommon to find airline employees that don't even understand their contracts. We're empowering passengers to know their rights and we always provide citations in case a passenger needs to push back or talk to an airline manager."
Highlights from the guides feature information on passenger rights when:
You miss your flight.
Your airline cancels or delays your flight.
You're bumped off a flight because it is oversold.
Your baggage is lost, damaged or delayed.
You're stuck on the tarmac for an extended period of time.
You lose something on a flight.
To create these guides TermScout surveyed and interviewed more than 350 frequent travelers to determine the contract provisions that matter most to them. The company's TermScouts – lawyers trained to scout terms and conditions and summarize the most important points – then rated those provisions for the top ten US airlines before creating the Passenger Rights Guides. Its first official rating found Alaska to have the most customer-friendly contracts and Allegiant to have the worst, with vast differences between the two. You can learn more about airlines' contracts here.1In the coming months TermScout will publish information on the contracts for the major consumer tax preparation companies, payday lenders, and student loan servicing companies.
About TermScout
TermScout's mission is to facilitate healthy commercial transactions by helping people and organizations understand the contracts they sign. The company's proprietary contract rating methodology provides businesses and consumers with easy-to-understand insights into legal agreements they regularly encounter and often overlook. TermScout has a team of experienced attorneys, entrepreneurs, and technology specialists based in Denver, Colorado.