Basic Invite Creates New Line of Confirmation Invitations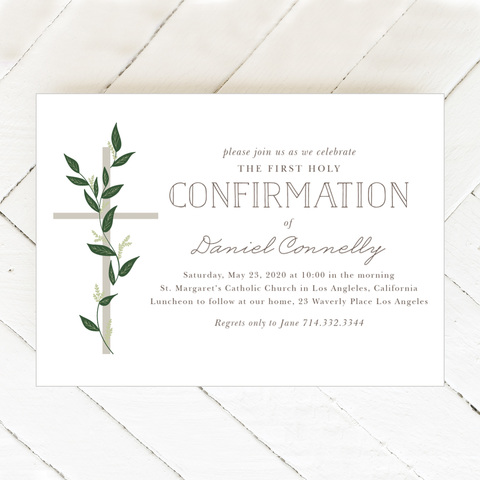 A religious Confirmation is when an individual receives an outpouring of the Holy Spirit, an exceptional event that is meant to be shared with loved ones, and one's holy congregation.
Basic Invite
has released many religious-themed cards this year, with a significant emphasis on baptism and the Confirmation ceremony. Regardless of one's exact religious beliefs, these templates are entirely customizable and have been cultivated to fit any person's personal views. Each confirmation invitation features real-time previews, with over one hundred and eighty colors to select from, and three foil options to add. Greenery, crosses, masculine, or feminine, this new line consists of a plethora of designs to choose from, and use to invite guests to a sacred Confirmation.
Head of marketing at BasicInvite.com, Eric Mortensen, states why Basic Invite is a 'Truly Custom' website, "I've come to understand that most big moments in one's life, though they try hard not to be, get to be very stressful." He follows by saying, "One of our main goals at Basic Invite is to take the guessing game out of these situations when it comes to your invitations. With our invites, you can personalize everything and anything, and still receive your invitations on time through a seamless ordering process." Their
confirmation invitations
now offer an option to add a mailing service to your order. Selecting the mailing service lets Basic Invite address, stamp, and mail all of your cards for you, making for stress-free ordering and delivery.
About
Basic Invite is a 'Truly Custom' online invitation website, based in Southern Utah, with a growing team, and product line. Founded in 2006, CEO Brock Bacik, and CMO Eric Mortensen have built one of the most well-known invitation brands in the United States, today. Their new line of confirmation invitations can be found under the 'Events' tab on Basic Invites website, with more designs rolling out next year.