San Jose Harvest Festival® Celebrates Black Friday with Hundreds of Independent Makers and Artists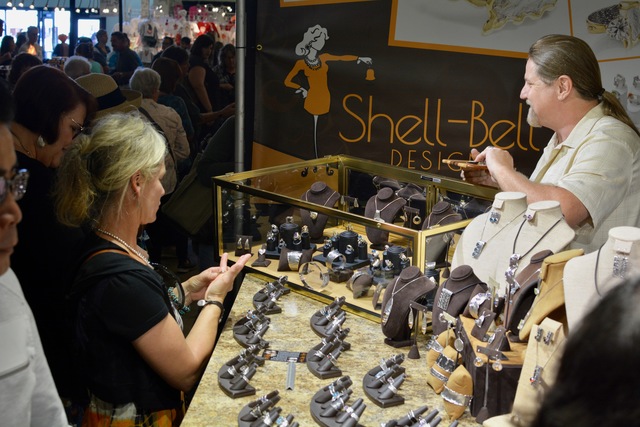 This Black Friday, Bay Area shoppers can forgo the big box stores and opt instead to support independent and local businesses at the San Jose Harvest Festival, happening November 29-December 1 at the San Jose Convention Center. Artists, craftspeople, and makers will be all be exhibiting a wide array of one-of-a-kind gifts, including original art, ceramics, jewelry, clothing, photography, toys, specialty foods, home décor and much more.
"We are proud to offer shoppers an alternative to the Black Friday madness," said show owner Nancy Glenn. "At our show, people can take their time browsing a wide variety of products, speak directly to the artists, and even get many items customized or personalized."
The San Jose Harvest Festival is known as the largest indoor arts and crafts show on the West Coast, and it features a unique shopping experience that melds American, handmade crafts with live entertainment, music, food, and more.
The Zydeco Flames Band will light up the entertainment stage with their upbeat, fiery Cajun sound. Their songs are reminiscent of classic Louisiana Creole, and the group's latest album "Fire Dance" carries on the traditions of Clifton Chenier, Buckwheat Zydco and Queen Ida. Comedian John Park will also be bringing the laughs with his hilarious, interactive "Funny Waiter" show. Plus, strolling performers such as Mama Claus, Eddie the Elf, and a stilt walking Santa will all be wandering the festival and entertaining attendees as they shop.
CD's Art Studio will host the hands-on KidZone, where children can take part in make-and-take wood craft activities. Plus, New York Life will return to offer free Child ID Kits.
The San Jose Harvest Festival is proud to give back to the community by once again partnering with the Humane Society Silicon Valley. The non-profit animal welfare organization will receive half of the proceeds from shopping bag sales and all of the proceeds from the bag and parcel check, as well as a direct donation from the show.
The Harvest Festival Original Art and Craft Show holds nine shows throughout California and Nevada and is consistently rated as one of the top 200 craft shows in the United States.
What: The San Jose Harvest Festival® Original Art and Craft Show
When: November 29-December 1, 2019
Where: San Jose Convention Center (150 W. San Carlos St, San Jose CA 95113)
Hours: Friday: 10am – 5pm, Saturday: 10 am – 6pm, Sunday: 10 am – 5pm
Cost: Adults: $9, Seniors (62+) and Military: $7, Youth (13-17): $4, 12 & Under: Free (Re-entry valid all weekend with hand stamp)
Info: For tickets and information, please call 925-392-7300 or visit
www.harvestfestival.com