Christmas Rooftop Champagne Brunch at The Shores Resort & Spa Offers Traditional Holiday Dining, Seafood and Champagne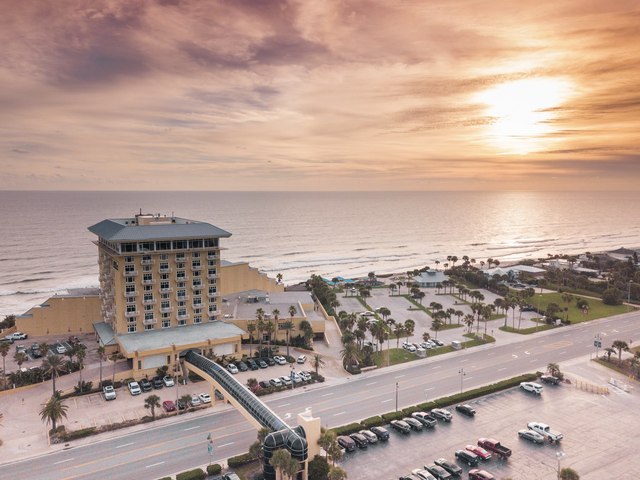 The whole family will enjoy celebrating Christmas Day this year with The Shores Resort & Spa at their annual Christmas Champagne Brunch. The resort warmly invites their guests to partake in a special holiday-inspired buffet, including a glass of champagne or a mimosa, along with breathtaking views as far as the eye can see from the panoramic rooftop ballroom. With amazing views from the top level of the hotel, and all the holiday favorites, there is something for each member of the family to love. Join The Shores Resort & Spa on Wednesday, December 25, 2019, seating at 10:30 AM – 3:30 PM EST.
The Shores Resort & Spa's exceptional chefs have created a special buffet menu that is sure to please everyone with enticing seafood choices and traditional holiday favorites:
IMPORTED AND DOMESTIC CHEESE AND FRUIT
Chef's Selection of Fresh and Aged Cheeses, Cured Meats, Olives and Marinated Vegetables
SEAFOOD DISPLAY
Peel and Eat Shrimp, Snow Crab Legs, Oysters on the ½ Shell, Cocktail Sauce, Drawn Butter, Lemons & Tabasco Sauce
MADE TO ORDER OMELETS
Farm Fresh Eggs, Ham, Sausage, Bacon, Mushrooms, Peppers, Scallions, Spinach, Jack and Cheddar Cheeses
BREAKFAST OFFERINGS
Fresh Baked Muffins
Sliced Melons, Pineapples, Strawberries, Yogurts and Granola
Selection of Breakfast Meats
Skillet Fried Potatoes
FROM THE CARVER
Herb Rubbed Turkey, Traditional Gravy, Fresh Cranberry Sauce
Oven Roasted Leg of Lamb, Roasted Garlic & Rosemary Demi Glaze
Slow Roasted Prime Rib, Rosemary Au Jus, Horseradish Cream
Old Fashioned Glazed Ham with Mustard & Brown Sugar
CHRISTMAS BUFFET
Greens with Grape Tomatoes, Cucumbers, Shredded Carrots, and Croutons
Assorted House Dressings
Tortellini Pasta Salad
Albacore Tuna Niçoise Salad
Oven Roasted Salmon with Lemon Caper Butter
Yukon Gold Mashed Potatoes
Traditional Bread Stuffing
Bouquetière of Seasonal Vegetables
Bounty of Artisanal and Yeast Rolls
CHEF'S DESSERT TABLE
Bananas' Foster Action Station with Vanilla Ice Cream
Traditional Cakes and Pies
Variety of Mini Dessert Offerings
Adults $55 per person, Seniors 65 and older $50 and children 12 and under $25, no charge if under 5. Price does not include 18% gratuity and Florida sales tax. This event sells out and reservations are required. For more information and to reserve seating, call 386-767-7350 or visit:
https://www.exploretock.com/azure/
For more information about The Shores Resort & Spa, visit
www.shoresresort.com
or to book a stay, contact a reservations agent at (866) 934-7467, or via email at
shoresreservations@shoresresort.com
.
###
About The Shores Resort & Spa
Situated on a quiet stretch of Atlantic shoreline, The Shores Resort & Spa gracefully blends luxury, comfort, service, and style into an extraordinary beachfront retreat. From private balconies or terraces, the resort's guest rooms and suites offer captivating views of the Atlantic Ocean or Florida's Intracoastal Waterway. The Shores offers a long list of luxurious guest services and amenities, including private poolside cabanas, oceanside fire pits with signature s'mores, exceptional dining, and an intimate spa. In addition, there are more than 20,000 square feet of indoor and outdoor adaptable function space for wedding events of up to 400 guests. Both pet-friendly and eco-friendly, The Shores Resort & Spa is also a certified Florida Green Lodging resort. For more information on The Shores Resort & Spa, visit
www.ShoresResort.com
or call (866) 934-Shores.