Top Sales Management Guru Reveals Secret Strategies in First-of-Its-Kind 'Business Novel' for Sales Managers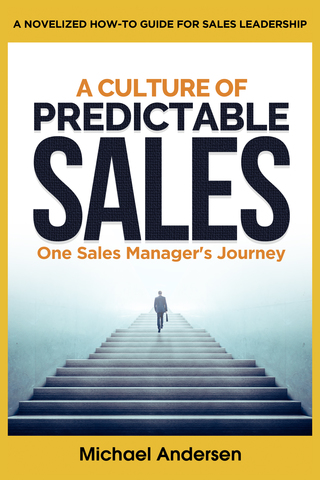 When presidents and CEOs of many of the best mid-size companies across North America need help to improve their sales results, they call Michael Andersen. Since selling his tech startup in 2007, he has quietly and consistently masterminded the transformation of hundreds of sales departments using his proven Intentional Sales Management™ (ISM™) system.
"Michael has demystified sales management and given his readers a simple approach that just works. The tools and processes are comprehensive, strategic, AND quick to implement for high-impact results.
Michael Andersen does for sales managers what Patrick Lencioni did for teams!
" -Jim Horan, author of The One Page Business Plan
Now for the first time,
A Culture of Predictable Sales
, Andersen's revolutionary new book, opens the curtain on the secret strategies that have helped these companies achieve predictable sales:
A thrilling novel that entertains while teaching, it illuminates proven best practices of sales management by showing them at play in a relatable context.
Think salespeople are too independent and free-wheeling to work with systems? This book will show you how to bring them on board willingly.
Discover how to combine the art of sales with the science of sales management to create a synergy that boosts results both for individual team members and your company as a whole.
Get access to and learn how to use practical and powerful tools that can transform how you hire, onboard, coach, mentor, motivate, compensate, and hold accountable your sales team.
Build your sales culture to drive predictable sales.
Author Statement
"This is the book I wish I had when I was starting out. It gives you easy access to sales management best practices that I've used over and over in the field to create breakthroughs with hundreds of sales teams. And it delivers them through an exciting and highly relatable story for deeper and more enjoyable learning, and to inspire immediate implementation."
-Michael Andersen
Author Michael Andersen, MBA, CPBC
Creator of the breakthrough Intentional Sales ManagementTM system, Michael Andersen helps company leaders stuck with uninspiring revenue generate strong, predictable sales results.
Michael has partnered with executive and sales leadership of hundreds of companies in numerous industries, from Fortune 100 to successful family-run businesses, helping them:
Build their sales departments.
Develop complete and effective sales processes.
Implement training and coaching programs that get buy-in and results.
Refine their go-to-market strategies for maximum advantage.
As a nationwide leading sales coach and fractional CSO, Michael has trained thousands of sales professionals and leaders. He is known for his ability to ask the right questions and integrate unique market positioning with proven best practices.
About A Culture of Predictable Sales
Great salespeople aren't always naturally great sales managers. It takes a different skill set to direct the sales system and guide a team of free-wheeling individuals.
Rolland Mandat, after proving himself as a salesman, finally got promoted to manager. But sales are below par, and the CEO needs to see better results, fast! He wants to see Rolland succeed, and he believes that with the right support, he has what it takes. So he brings in an expert coach to guide the intrepid sales manager in developing an effective system to get the results the company needs.
Easy-to-digest takeaway sections offer insight for each chapter – as you discover the principles that help Rolland succeed, you'll be empowered to lead your team to predictable sales.
Learn more at www.acultureofpredictablesales.com and follow Michael Andersen on Facebook.
For
review copies
or more information, contact Polina Chaikovskaia:
Polina@litpromoters.com
Grab a copy of A Culture of Predictable Sales on Amazon.
Contact Information
Polina Chaikovskaia
Litpromoters
Contact Us