"DO-178C Best Practices" - New Free AFuzion Whitepaper Improves Avionics Development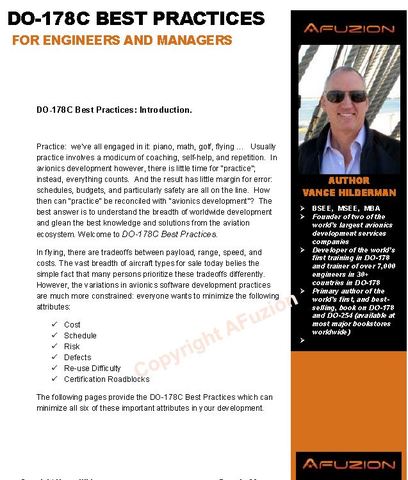 AFuzion celebrated its 300th satisfied avionics development client by releasing "DO-178C Best Practices" - a free 10-page technical whitepaper assisting avionics software developers.
AFuzion, the world's largest aviation development certification services company, has the world's largest library of processes, whitepapers, frameworks, checklists, and guidelines in use by 11,000 engineers and 300+ companies worldwide. This new AFuzion DO-178C Best Practices whitepaper describes techniques to reduce DO178C cost and schedule - free download here:
Click here for free download
.
Says Jack Jones: "D0-178C information on cost and schedule reduction is rare: companies don't want to share. But AFuzion works for most of those companies deploying DO-178C and ED-12C training, mentoring, certification, and engineering augmentation. Over hundreds of person-years of engineering involvement, AFuzion has optimized the DO-178C processes in use by 80% of the world's top 100 aviation developers. For the first time, AFuzion's DO-178C Best Practices are freely available to the public to promote aviation safety and cost-effectiveness. Additional DO-178C cost savings information is available in our "DO-178C Costs/Benefits" whitepaper here:
Click Here to Download
Since Covid-19 changed aviation and business, AFuzion's engineers have expanded their remote DO-178C and DO-254 consulting with over fifty engineers now servicing clients remotely: training, mentoring, auditing, and DO178C / DO254 software/hardware development are all provided remotely - with AFuzion's world-class management and IT infrastructure, client productivity has increased and AFuzion's growth set a quarterly record last quarter. AFuzion's engineers are currently assisting over 30 clients with DO-178C for eVTOL, UAM, Military, and Civil aviation, in 12 countries.