Harvey Kubernik "Docs That Rock, Music That Matters" Scheduled and Recent Print and Online Reviews, Broadcasts and Podcasts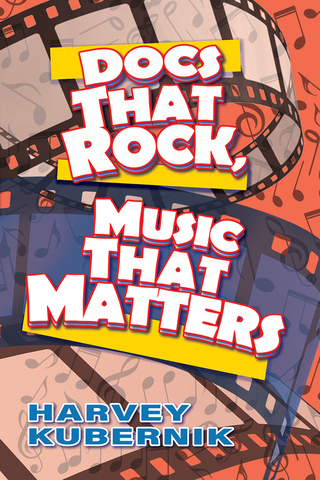 Cavehollywood.com
posted Kubernik's feature on Derek and the Dominos 50th anniversary of their "Layla and Other Assorted Love Songs," and on November 14th, Harvey Kubernik will be the special guest interview subject on "The Weekend Warrior Show" hosted by renown orthopedic surgeon Dr. Robert Klapper of Cedars-Sinai Medical Center. The program airs Saturday mornings 7am-9am in Southern California on the
AM dial at 710 ESPN.
When Kubernik phones in at 8:14am, he and Dr. Klapper will discuss Harvey's new book "Docs That Rock, Music That Matters" and the landmark "Layla" album by Derek and the Dominos, which celebrates a 50th Universal Music Enterprises label anniversary edition on November 13th. The entire program will be archived and syndicated globally later that morning and may be heard online at
http://www.espn.com/espnradio/losangeles/podcast/archive?id=6182844.
Until then, Otherworld Cottage Industries is happy to share these excerpts from online reviews and testimonials we've received for Harvey's 19th book.
"With Docs That Rock, Music That Matters," Harvey Kubernik has done it again, this time in a broad overview of some of rock music's most important, and most overlooked, documentaries. Telling stories of battles to get films made, secret histories with prime movers, fascinating trivia about some of the most famous cinematic studies of beloved music, Kubernik's encyclopedic knowledge astounds and enlightens." —Roger Steffens, author of "So Much Things to Say: The Oral History of Bob Marley."
The Mike Stax review in the November/December issue of Ugly Things magazine, reports, "In 'Docs That Rock, Music That Matters,' Harvey Kubernik has tapped into his deep archive of interviews—some from as long ago as 1975, others as recent as last year—to present a substantial, authoritative exploration of music documentaries and rock-related film and television. The hefty 500-plus page book compiles essays and multi-voice interview pieces, illustrated with photos, including some rarely-seen pics by the great Henry Diltz.
"There's a huge amount of information packed into these pages, making this book an invaluable reference source for anyone interested in how documentaries and television have chronicled and celebrated music that matters."
(View the entire review at
https://otherworldcottageindustries.com/UT55 Docs That Rock Review, page 28.pdf
.
And Lee Zimmerman, in the most recent Goldmine online review states, "Harvey Kubernik is renowned and respected as a leading light in the world of music journalism, so it ought to come as little surprise that his latest tome, 'Docs That Rock, Music That Matters,' should offer such a rich reservoir of scholarly essays, interviews and observations … spanning a broad swath of contemporary entertainment spawned from the intertwined world of music and film. It's an expansive work, owing primarily to Kubernik's experience, and expertise and the volumes of information shared by his subjects.
"Given his 48 years as a music writer, the 18 crucially acclaimed journals he's authored along the way, and a rich resume that includes his efforts as an editor, lecturer, producer, and major label talent rep, it's clear that he had plenty of material to mine."
(See the entire review at
HARVEY KUBERNIK'S GOLDMINE REVIEW.
Harvey's 'Docs That Rock, Music That Matters' is also the subject of a recorded
90-minute podcast interview
with Goldmine magazine Editor Pat Prince.)
The new issue of Record Collector News magazine in its November and December issue spotlights a cover story by Harvey Kubernik on the "wizard of Laurel Canyon," Frank Zappa, and examines the November 27th release of "ZAPPA," a documentary film from Magnolia Pictures by Alex Winter. The magazine's coverage features Harvey's interview with actor/director Winter about his marvelous and inspiring movie. An extended version of the "ZAPPA" article can be read at
https://www.musicconnection.com/kubernik-qa-with-zappa-director-alex-winter/
.
This week, Music Connection proudly displays Harvey's multi-voice narrative tribute to George Harrison's epic "All Things Must Pass," which celebrates a 50th anniversary later in November.
Other October and November 2020 Kubernik-penned articles and his work in television and on film may also be viewed on
www.musicconnection.com
, or by visiting
Kubernik's Korner
.
Email Otherworld Cottage Industries