Harvey Kubernik's 19th Book, "Docs That Rock, Music That Matters," Now Making Radio Waves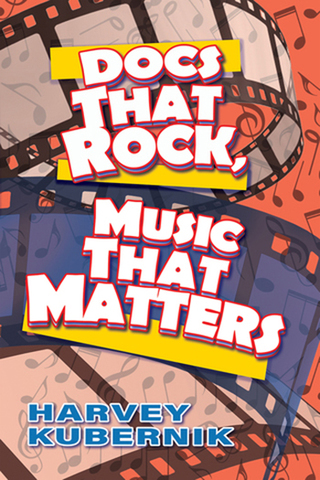 This Friday Evening, December 11th, author and music historian
Harvey Kubernik will be the guest interview subject
on the widely syndicated late-night radio music talk program "Coast to Coast AM" hosted by Ian Punnett. Kubernik will be interviewed and interact with callers in the 10:00 pm-midnight timeslot (PST), discussing his latest book, "Docs That Rock, Music That Matters," as well as the musical legacy of Laurel Canyon, music documentaries, disco recordings, and the Bee Gees, currently featured in Music Connection Magazine's
Harvey Kubernik article "Bee Gees: How Can You Mend a Broken Heart,"
from HBO Documentary Films, a feature-length documentary that chronicles the triumphs and hurdles of brothers Barry, Maurice, and Robin Gibb, otherwise known as the Bee Gees.
Coast to Coast AM has a listenership of over 2.5 million, is estimated to be carried by 500 affiliates, a number of FM stations, is streamed on the show's website, and also broadcast by 12 clear-channel stations including KFI-AM (640) in the Los Angeles market and carried by Sirius XM. Coast to Coast AM is the most listened to overnight radio program in the country. Please visit
www.coasttocoastam.com.
Harvey's "Docs That Rock, Music That Matters," the subject of a recorded
90-minute podcast interview with Goldmine magazine Editor Pat Prince
, is still available to listeners, and the Mike Stax review in the November/December issue of Ugly Things magazine, is still online at
https://otherworldcottageindustries.com/UT55 Docs That Rock Review, page 28.pdf.
BEST CLASSIC BANDS – CELEBRATING THE ARTISTS, MUSIC AND POP CULTURE OF THE CLASSIC ROCK ERA, in its 2020 Review:
The Best Music Books of the Year
lists "Docs That Rock, Music That Matters" by Harvey Kubernik, reporting, "Here is the 'real-to-reel backstory' behind many of the music DVDs and documentary films you have on your shelves and in rotation in your home library. This book includes dialogues with acclaimed Oscar winners including D. A. Pennebaker, Murray Lerner and Albert Maysles."
In other news, Music Connection's latest
Harvey Kubernik article "Tower Records 60th Anniversary"
reports, the iconic music chain that defined the retail music business in the pre-digital era, is back in business 60 years after Russ Solomon first opened its doors in 1960.
Stay up to date with Harvey Kubernik on
Kubernik's Korner!
Email Otherworld Cottage Industries