Metairie, LA Authors Publish Inspirational Biography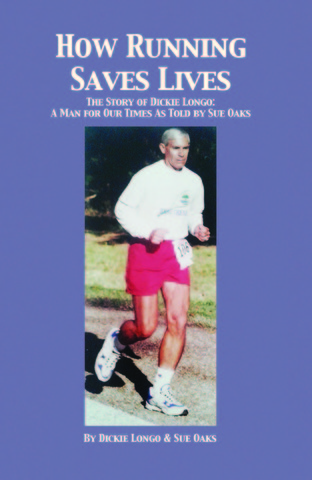 How Running Saves Lives: The Story of Dickie Longo A Man for Our Times as Told by Sue Oaks, a new book by Dickie Longo and Sue Oaks, has been released by Dorrance Publishing Co., Inc.
Beginners Walk/Run Program
This program was designed by Dickie Longo, an 83-year-old everyday runner who runs a race every weekend. He has been running for 70 years.
2 DAYS - Walk Around Block
2 DAYS - Walk Around 2 Blocks
2 DAYS - Walk Down Block, Slow Run The End, Walk Down Other Side, Run End.
2 DAYS - Run Down Block, Walk End, Run Down Other Side, Walk End.
1 DAY - Run Around Block To Standing Ovation Of Neighbors.
2 DAYS - Run Around 2 Blocks
3 DAYS - Run Around 3 Blocks
3 DAYS - Run Around 4 Blocks - HALF MILE
Continue increasing number of blocks until you run a mile. ALL RUNS AT SLOW PACE. At this point when advancing toward 5k distance you can start the run/walk method if you want to. RUN for 5 minutes, then WALK BRISKLY for 1 minute, and contiue this sequence for the 5k distance of 3.1 miles. Goal is to run a slow 5k when you feel comfortable with your progress.
See you at the next 5k race. We will run it together.
If you'd like to meet Dickie Longo, he'll be participating in 2 upcoming races where he will be hosting book signings.
January 22nd - Run/Walk on the Bayou race at Bayou Segnette State Park in Westwego, LA
January 29th - Too Cold To Hold race at Northbuck Park in Dallas, Texas
How Running Saves Lives is a 104-page paperback with a retail price of $12.00 (eBook $7.00). The ISBN is 978-1-6386-7057-5. It was published by Dorrance Publishing Co., Inc of Pittsburgh, Pennsylvania. For members of the press, to request a review copy, visit our virtual pressroom at
https://dorrancepressroom.com/how-running-saves-lives/
or to buy the book visit our online bookstore at
https://bookstore.dorrancepublishing.com/how-running-saves-lives-the-story-of-dickie-longo/
Email Dorrance Publishing