Chicago, IL Retired Professor and Author Publishes Philosophical Analysis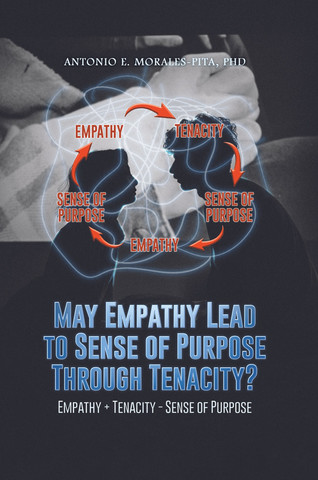 May Empathy Lead to Sense of Purpose Through Tenacity?, a new book by Antonio E. Morales-Pita, Ph.D., has been released by RoseDog Books.
In the introduction, this author analyzes and summarizes three successful authors about empathy and sense of purpose, such as Keep Sharp Build a Better Brain at Any Age by Sanjay Gupta, The Purpose of Driven Life, which was a best-seller, written by Rick Warren, and The Art of Empathy by Karla McLaren.
This book is one of the few, or maybe the first one, in dealing with the triple interaction of empathy, sense of purpose and tenacity.
Can empathy, sense of purpose, and tenacity be inherited?
Why is it impossible to be defeated by procrastination if the individual possesses the trio empathy, sense of purpose, and tenacity? Which one of them is the most effective in overcoming procrastination?
Dr. Morales analyzes the consequence of being empathetic from the executor's and the recipient's standpoints.
Is it possible to be simultaneously empathetic but neither tenacious nor lacking sense of purpose?
Which was the most convincing proof of Gladys Morales' immense empathy?
Can the combination of the trio "empathy-sense of purpose-tenacity" be powerful enough to allow a person not to grieve after his/her most loved one's decease?
About the Author
Antonio E. Morales-Pita, Ph.D. is a retired professor of international political economy at DePaul University in Chicago, who had taught for fifty-four years in Cuban, Mexican, and American universities. He is one of the few scholars holding two doctorates in Mathematical Economics and in Development and Optimal Planning of the Cane and Sugar Complex in Cuba. He has been recipient of eight international awards as a professor, and as a scholar in the three aforementioned countries.
Morales-Pita has published ten books, six of them as a scholar in mathematics, economics, research, and environment in Cuba, and Mexico as well as more than 300 scientific articles in Cuba, Mexico, Ukraine, the United States, Australia, and Dubai, and the remaining four as non-fiction, epic, and historic biographies in the United States. He is a polyglot traveler of the world.
May Empathy Lead to Sense of Purpose Through Tenacity? is a 74-page paperback with a retail price of $13.00 (eBook $8.00). The ISBN is 978-1-6393-7571-4. It was published by RoseDog Books of Pittsburgh, Pennsylvania. For more information, or to request a review copy, please go to our virtual pressroom at
https://dorrancepressroom.com/may-empathy-lead-to-sense-of-purpose-through-tenacity/
or our online bookstore at
https://rosedogbookstore.com/may-empathy-lead-to-sense-of-purpose-through-tenacity/