Teaneck, NJ Author Publishes Social and Cultural Commentary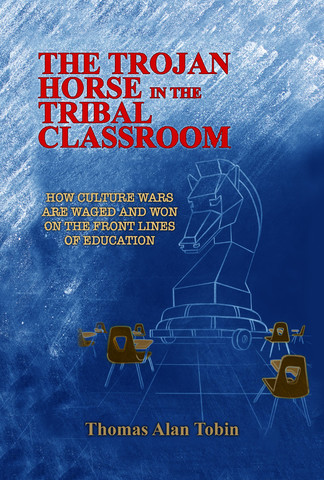 The Trojan Horse in the Tribal Classroom: How Culture Wars are Waged and Won on the Front Lines of Education, a new book by Thomas Alan Tobin, has been released by Dorrance Publishing Co., Inc.
"All three hundred thirty million of us are immersed in culture wars at every turn. It's one of the great disadvantages of diversity. One such "warfare" has been hidden from all of us despite the fact that we had to face it almost daily in our formative years. The battleground for this most common cultural conflict is where we all spent at least 40% of our school-years, preparing not just for unforeseen pandemics, such as we're caught up in now, nor also for dealing with the economic, ecological, and political divisions that currently confront all arenas of American society. Surprisingly it's our educational system, and especially the classroom, where the frontlines of cultural "warfare" may have kept us constantly struggling for so long. Unwittingly and unwillingly drafted into these social and cultural battles, we've been trained to continue this perennial struggle between academic and popular sub-cultures in our schools. The Trojan Horse in the Tribal Classroom reveals the situational factors and functions that have caused education to become an "embattled institution and teaching an embattled profession." Most importantly it proposes social and cultural solutions to these problems that promise real institution-wide improvement and a completely reconstructed, truly academic classroom culture. One reading of this book will totally revise one's vision of American education and our memories of thousands of hours of classroom life."
— Dr. Regina Peter, Executive Director
NEWMARK Education
The Trojan Horse in the Tribal Classroom: How Culture Wars are Waged and Won on the Front Lines of Education is a 330-page paperback with a retail price of $21.00 (eBook $16.00). The ISBN is 978-1-6386-7003-2. It was published by Dorrance Publishing Co., Inc of Pittsburgh, Pennsylvania. For members of the press, to request a review copy, visit our virtual pressroom at
https://dorrancepressroom.com/the-trojan-horse-in-the-tribal-classroom/
or to buy the book visit our online bookstore at
https://bookstore.dorrancepublishing.com/the-trojan-horse-in-the-tribal-classroom-how-culture-wars-are-waged-and-won-on-the-front-lines-of-education/
Email Dorrance Publishing