Costa Mesa, CA Author Publishes Real Estate Advice Book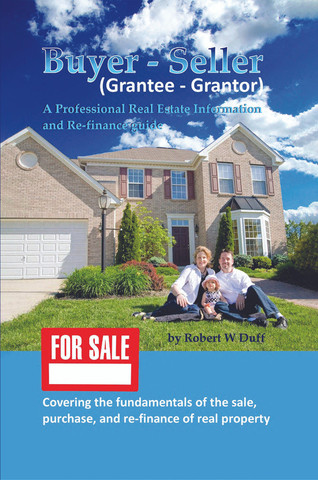 Buyer - Seller (Grantee - Grantor), a new book by Robert W Duff, has been released by RoseDog Books.
A handbook to help with real estate from the mind of a man that is a nationally recognized expert on real estate development. After reading this book everyone will have a basic understanding of the steps involved in the real estate process. The goal of this book is to make the buying and selling process a less stressful experience for everyone.
About The Author
Robert W Duff is a nationally recognized expert on all phases of real estate development.
He has over 40 years of experience as a builder / investor / developer, of complicated land titles, common interest ownership and financial services.
Mr. Duff has been formally recognized by many in the building industry. In 2005, the California Building Industry Association (CBIA) unanimously inducted Mr. Duff into the CBIA Hall of Fame.
Mr. Duff holds Life Board of Director status in many local and state building industry associations.
He holds the distinction of being the only non-builder Life Director in the National Association of Home Builders from California. In 2001-2002, he became the first and only associate appointed to the N.A.H.B. Executive Committee as a voting member.
Mr. Duff has been recognized in the Congressional Record, Library of Congress of the United States, for his outstanding contributions to the real estate industry. He has lectured at the University of California, Los Angeles (UCLA) for the "Professional Practices In Real Estate Development Course".
Buyer - Seller (Grantee - Grantor) is a 66-page paperback with a retail price of $20.00 (eBook $15.00). The ISBN is 978-1-6393-7546-2. It was published by RoseDog Books of Pittsburgh, Pennsylvania. For more information, or to request a review copy, please go to our virtual pressroom at
https://dorrancepressroom.com/buyer-seller-grantee-grantor/
or our online bookstore at
https://rosedogbookstore.com/buyer-seller-grantee-grantor/