Cleveland, OH Author Publishes Short Story Collection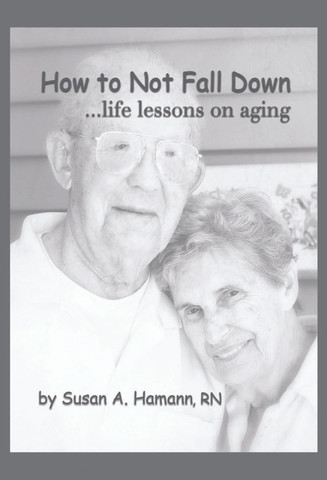 How to Not Fall Down …life lessons on aging, a new book by Susan A. Hamann, RN, has been released by Dorrance Publishing Co., Inc.
Life: As the saying goes, "Man plans, God laughs." You walk into a party thinking you look pretty cool, only to have someone point out the back of your dress is tucked into your underwear…. You move to a new city and by accident land in a neighborhood of the best neighbors you could ever want…. Your cat dies…. You find your favorite earrings, lost a year ago, under the dresser (has it really been that long since you cleaned???). You find a lump-the biopsy is negative. Yes, life-the good, the bad, the funny, the sad. Some days, even with the best intentions, we still fall down. These short essays are about just those things, taken from Susan Hamann's life and yours, that remind us what it means to fall down but keep on trying. It's about the learning to get back up, brush off the dust, and try again.
About the Author
My kids (2) say I've never met a stranger…well, DUH! Once you start talking to someone they are no longer a stranger! Like the woman cleaning the tables in the Smithsonian cafeteria, or the person with a beautiful wool coat on the elevator in my dentist's office (she bought it at Nordstrom's, by the way). But I digress. I like people, I like stories. I read. I write. And in my spare time I try new recipes, visit my sister, sit on the patio with my neighbors, take my cat to the vet regularly, and think about roller skating and jumping rope at a time it was great to be a kid, the 1950s. I moved to Cleveland (one of the best-kept secrets in Ohio) 11 years ago, by way of Granville Ohio, Eagle River, Alaska, Browning Montana and, yes, a previous life in Granville, Ohio. Oh, one more thing-I've been an RN for 40+ years. It's a good way to learn people's stories. That's my story and I'm sticking to it.
How to Not Fall Down …life lessons on aging is a 240-page paperback with a retail price of $19.00 (eBook $14.00). The ISBN is 978-1-6853-7157-9. It was published by Dorrance Publishing Co., Inc of Pittsburgh, Pennsylvania. For members of the press, to request a review copy, visit our virtual pressroom at
https://dorrancepressroom.com/how-to-not-fall-down/
or to buy the book visit our online bookstore at
https://bookstore.dorrancepublishing.com/how-to-not-fall-down-life-lessons-on-aging/
Email Dorrance Publishing