Ravena, NY Author Publishes Science Fiction Novel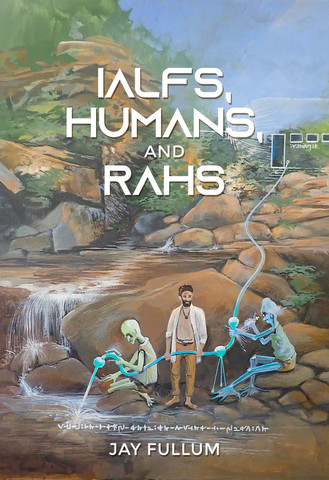 IALFs, Humans, and RAHs, a new book by Jay Fullum, has been released by RoseDog Books.
The journey to another world begins with Pam's first encounter with an alien. Shortly after she is diagnosed with terminal cancer, Pam goes to her family's camp in an attempt to clear her head and improve the time she has left on this earth. A couple of weeks later, while taking one of her short walks, she begins to feel dizzy. Seconds before passing out, she thinks she sees a little man staring at her. The little man is actually an IALF, an Intelligent Alien Life Form. Near death, the aliens stabilize Pam and transport her to their home planet.
Minutes after her arrival on Dandor, Pam is put under Doc's care. His advanced medical abilities make it possible for the alien doctor to fix Pam's little problem. During the time that Pam spends with Doc during her treatment and future checkups, their relationship grows from friend-ship to something more serious. Months later they decide to make it official; they pair.
Their hybrid son proves he has skills beyond that of either parent. The IALFs are telepath-ic with other members of the same species. Humans communicate verbally. Shortly after he arrives, Bob proves he had a voice. At the same time, Bob begins to spend more and more time staring at his father. Pam knows that they are communicating telepathically. Bob has another skill that is a total surprise. Weeks later, they realize that Bob can also read Pam's mind.
Shortly after Pam comes to Dandor, a small group of higher life forms are rescued from a dying planet. The strange life forms have long hind legs and waddle when they walk. The RAH do a lot of nodding and waving when they are approached, but both the IALFs and humans are unable to communicate with them. The three higher life forms have a few problems to solve, but the new residents of Dandor follow the IALF's lifestyle as a caring, loving species. This is the story of how three species come together and share a planet in peace and harmony.
About the Author
Jay Fullum is a retired artist and magazine and newspaper columnist, who had a grand time dreaming up the interactions between the IALFs, humans and RAHs. It was also quite a surprise when the author within the book found out that an alien hybrid actually helped him with the illustrations and text.
IALFs, Humans, and RAHs is a 320-page hardbound with a retail price of $35.00 (eBook $30.00). The ISBN is 979-8-88527-547-7. It was published by RoseDog Books of Pittsburgh, Pennsylvania. For more information, or to request a review copy, please go to our virtual pressroom at
https://dorrancepressroom.com/ialfs-humans-and-rahs/
or our online bookstore at
https://rosedogbookstore.com/ialfs-humans-and-rahs/