Effikos.com provides tools and resources for students to track their academic performance and to advance in their careers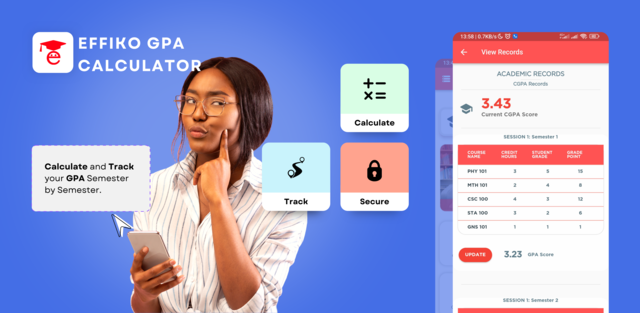 Effiko is a slang word in Nigeria used to depict someone who is smart, intelligent, or simply a bookworm. One prominent tool in the Effiko toolkit is the Effiko
GPA Calculator
, available on the Play store and App store.
Using the Effiko GPA calculator, undergraduates and postgraduates can calculate and track their GPAs easily. They will also know the minimum GPA they need to be able to hit a target GPA based on their current GPA (This feature is available on the Effiko website).
The Effiko app is a free, simple, and intuitive app that helps to make the academic journey of students more focused and purposeful. Effiko believes that tracking your academic performance from your first year is critical to finishing at the top of your class.
With the Effiko app, you can save your GPA semester by semester and even view a performance graph based on your semester-by-semester grades. There is also a feature that allows you to export your GPA and CGPA records to a PDF document at the tap of a button.
From the Effiko app, you can access hundreds of well-researched and written articles on
global university admission
,
international exams
, and
international scholarship opportunities
. Some of the articles focus squarely on
how to calculate GPA and CGPA
and the GPA required by certain categories of schools if you want to pursue postgraduate education in them.
More so, users of the Effiko website can also schedule one on one calls with professionals doing great stuff across the world – nurses, doctors, teachers, accountants, engineers, etc. Users can pick the brains of these professionals on how they landed top jobs.
Via the Effiko website, Tochukwu Nkwocha, the founder, and his team are solving the mentoring problem. Young people need mentors and Effiko is now connecting them with ordinary people like them who have moved forward in life so they can learn from them.
For those who want to migrate, this will be one great way to personally interact with people who have done what they wish or planning to do. Effiko believes that before migrating, one must have a clear plan on how to earn money when he gets to a new country. These people will tell you what they did, and you can learn from them.
Effiko also hosts interviews with Nigerian professionals where Effiko's founder, Tochukwu Nkwocha, asks them pointed questions to give Effiko's users general guidance on how to move forward in their careers.
So, head on to Effikos.com to start using these tools and resources