VACUUMSCHMELZE (VAC) Announces Binding Supply Agreement with General Motors (GM) to Support EV Growth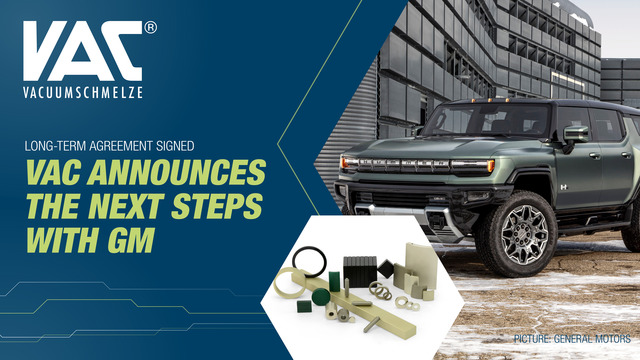 HANAU – VAC announced a binding long-term supply agreement with GM for North America permanent magnet production – another major step forward to create a strong, sustainable and scalable supply chain for electric vehicles. As part of the agreement, VAC will build a facility in North America to manufacture permanent magnets for electric motors used in a broad portfolio of EVs. The new facility will use locally sourced raw materials. The binding agreement finalizes a Memorandum of Understanding VAC and GM announced in December 2021.
With 100 years of experience, VAC is a leading global developer and producer of advanced magnetic solutions. VAC is the largest producer of rare-earth NdFeB permanent magnets in the Western Hemisphere.
"The demand for rare earth permanent magnets and supporting technologies is intensifying at an unprecedented rate as the world shifts to sustainable clean energy. VAC is extremely excited to be partnering with General Motors to take this important step to ensure the realization of GM's all-electric future", said Dr. Alexander Barcza, VAC Vice President Permanent Magnets.
VAC is in the process of establishing a North American permanent magnet production facility to support GM for a minimum of 10 years. The finished magnets will be delivered to facilities building EV motors for GM within North America. The VAC facility is expected to start production in 2025 and create hundreds of new jobs.
"Our agreement with VAC for permanent magnet production in North America represents another major milestone in building a strong, secure, sustainable and cost-competitive supply chain to support our EV growth", said Jeff Morrison, GM Vice President, Global Purchasing and Supply Chain.
Contact Information
Hendrik Borgmeier
VACUUMSCHMELZE GmbH & Co. KG
+49 6181 38 2082
Contact Us
Email VACUUMSCHMELZE GmbH & Co. KG