NSELED Transparent LED Display has been Installed in Dubai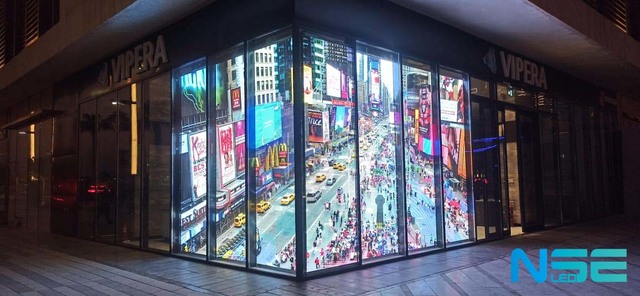 NSELED
today announced that its new transparent LED display has been installed in Dubai. NSELED transparent LED display is a see-through digital screen with transparency varying from 65% to 75%. Unlike the traditional LED display which appears as dark walls, the NSELED transparent LED displays allow natural daylight to pass through.
"NSLED has unveiled a transparent LED banner, transparent LED wall, and transparent LED circle, as parts of the new transparent LED display technology, "said Simon Lan, NSELED Marketing Manager. "The new transparent LED displays installed in Dubai feature multiple plastic layers sandwiched with glass layers."
NSLED transparent LED displays come in different resolutions and pixel pitches varying from P2.8, 3.9, 5.6, 7, 7.8 to 10.4. They are available in curved designs and squared shapes.
Other features include noise reduction technology, heat removal systems, brightness adjustments features, wide viewing angle, better contrast, and self-illuminating with an auto-lighting system.
The Nits brightness for NSELED transparent LED display varies from 5,000 nits to 6, 000 nits. It can also support many file formats and is compatible with many digital inputs.
About NSELED
NSELED designs and manufactures LED display screens including mobile displays, 3D displays, taxi displays, banner displays, and rental displays. Based in Shenzhen China, NSELED has become a leader in LED display solutions. It produces high-resolution, energy-efficient, and durable LED displays featuring advanced technologies.
Media Contact:
Tel: +86 755 2823 7438
Email:
sales@nseled.com
Contact Person: Simon Lan