51Degrees launches the 51Degrees UAParser – supporting User-Agent Client Hints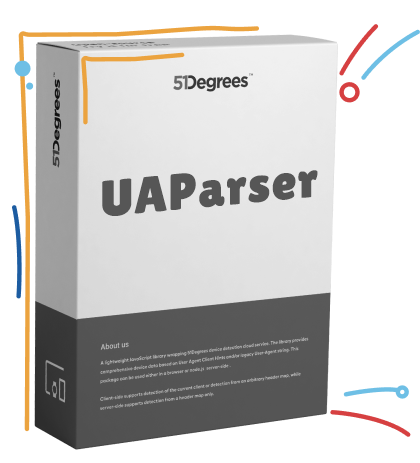 Reading, UK – Feb 21, 2023. 51Degrees announces the release of the 51Degrees UAParser. The product is open source and builds upon the popular UAParser.js package, providing support for User-Agent Client Hints and Apple iPhone model detection.
Unlike other available User-Agent parsers, the 51Degrees UAParser does not rely solely on a deprecated User-Agent HTTP header. Instead, the product uses all available evidence from both the User-Agent and User-Agent Client Hints HTTP headers to detect the device. This dual support is important as Google is gradually removing device model information from Chromium-based browser User-Agents, instead placing device model information within the User-Agent Client Hint headers.
Utilizing the 51Degrees Device Detection service which has greater than 99.9% accuracy, the 51Degrees UAParser can reliably detect Apple iPhone device models – which are notoriously hard to detect via the User-Agent.
About 51Degrees: 51Degrees was launched in 2010 and is now a global leader in device detection, offering high-speed device detection with pinpoint accuracy, a highly optimized data file footprint, and robust API's. Other services include Geolocation and TAC intelligence. 51Degrees is headquartered in Reading, Berkshire, and services a worldwide customer base.
###
Contact information:
Kirstin, Marketing Assistant.
Email:
marketing@51degrees.com