Nashville, TN Author Publishes Guide Book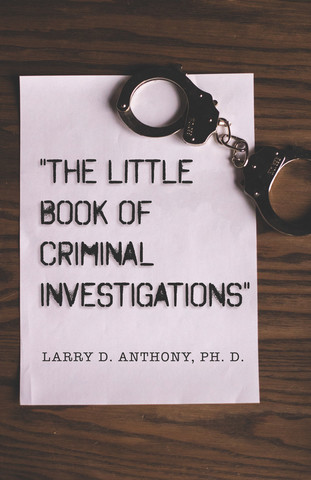 The Little Book of Criminal Investigations, a new book by Larry D. Anthony, Ph. D., has been released by RoseDog Books.
The Little Book of Criminal Investigations is a guide to law enforcement officers in the methods and techniques used to solve criminal cases. Actual cases provide the scenarios used to explain the various steps in a criminal investigation from beginning to end. The methods, techniques, and science are drawn from the experiences of investigators incorporating three investigative principles: suspect everyone, believe nothing, and check everything.
The book encompasses every significant area of criminal investigations including, the questions to ask when taking statements from suspects, victims, and witnesses, and a discussion on creating a respectful and cooperative relationship with the community providing investigators with legitimacy in addition to authority. The components of an investigation examines where to begin an investigation, how to spot deception, conducting crime scene searches, and combining all the evidence, statements, and crime scene forensics in a closing case report. The book is intended to give investigators the best approaches to conducting successful criminal investigations in large and small departments by making use of experience and science.
"Science, my lad, is made up of mistakes, but they are mistakes which it is useful to make, because they lead little by little to the truth"
(Jules Verne, A Journey to the Center of the Earth).
About the Author
Larry D. Anthony is an Assistant Professor in Criminal Justice for Liberty University. He holds a Bachelor of Science in Organizational Management from Tusculum University, a Master's in Criminal Justice from Boston University, and a Ph.D. from Walden University. He is a veteran of the U.S. Air Force and U.S. Marine Corps, and a retired Memphis Police Captain and Tennessee Bureau of Investigation Intelligence Analyst. Dr. Anthony's dissertation, Police Culture and Decision Making, has been downloaded worldwide over 5,600 times. He developed and instructed P.O.S.T. Certified courses in Crime Scene Management, Basic Criminal Investigations, Intelligence Collections Methods, Gangs/Terrorists, and other law enforcement subjects presented to Agencies in the Midsouth.
Dr. Anthony has written on several criminal justice subjects; Police, citizens and oversight: fixing our broken relationship with the public (Law Enforcement Today), Law Enforcement Challenges in the 21st Century (Police Chief Magazine), and Police and the Social Media Battlefield. He was called to active duty in 2004 and served as an Instructor at the U.S. Air Force Security Forces Academy, San Antonio, TX, Security Forces Superintendent on the Crisis Action Team, Washington, D.C., and 5th Air Expeditionary Security Forces Operations Chief, Kuwait City, Kuwait.
The Little Book of Criminal Investigations is a 70-page paperback with a retail price of $13.00 (eBook $8.00). The ISBN is 979-8-88729-185-7. It was published by RoseDog Books of Pittsburgh, Pennsylvania. For more information, or to request a review copy, please go to our virtual pressroom at
https://dorrancepressroom.com/the-little-book-of-criminal-investigations/
or our online bookstore at
https://rosedogbookstore.com/the-little-book-of-criminal-investigations/