Hamden, CT Author Publishes Self-Help Book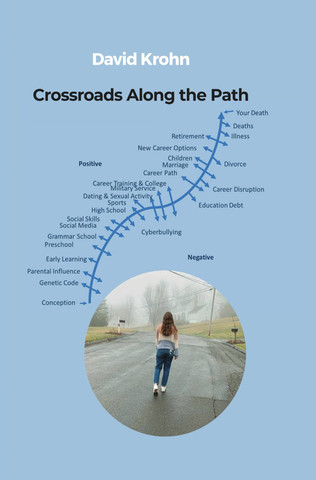 Crossroads Along the Path, a new book by David Krohn, has been released by Dorrance Publishing Co., Inc.
The journey along the path of life is filled with ups, downs, opportunities, and pitfalls. Often these positive and negative events lead to a critical question: How do you deal with them? How you deal with these events can lead to crossroad decisions that will alter your course along the path of life and have a profound effect. With age comes a broad range of experiences and crossroad decisions. Having lived a full and happy life, though not one without its crossroads, the author shares his insight on how to navigate both everyday challenges and life-defining transitions.
All of us face crossroads along the path of life. The crossroad decisions that we make can have a profound impact on the path that follows. The book covers the potential crossroads from conception, early childhood, adolescence, high school, secondary education choices, career choices, mid- career changes, marriage, parenting, divorce, illness, aging and finally preparing for end-of-life situations including death. Not everyone will experience all the crossroads that can occur, but all of will experience many of the situations that require life altering decisions that will require a turn on life's path
After walking on the path of life for nearly eight decades, there have been many crossroads chosen, some good and some not so good. The objective of the book is to discuss the crossroads on the path of life. Not only by my experiences, but by those around me and what I found in the broad scope of information that is available. The book discusses the various decision options in the many phases of life. It points out that good decisions consider not just the intended but the unintended consequences which can clearly alter your direction on the path. Let's start the journey together.
About the Author
David Krohn is the Managing Partner of Light Wave Venture LLC, which is focused on developing technology-based business opportunities. In prior and current experience, he has worked as an assembler on a production line, a lab technician, a development engineer, a department manager, and a Chief Executive Officer for two of the companies he founded. He was an officer in the army and served in Viet Nam. He has authored several publications including five books. Four were based on technology and the fifth was on entrepreneurial management. In his current role, he has advised over 130 companies and organizations on developing opportunities. He obtained his BS from Rutgers in 1965, his MS from Case Western Reserve in 1967 and his Ph.D. from Lehigh in 1973.
David Krohn has three children from the first marriage and two stepchildren from the second marriage. He has two grandchildren.
Crossroads Along the Path is a 200-page hardbound with a retail price of $65.00 (eBook $51.00). The ISBN is 979-8-8868-3018-7. It was published by Dorrance Publishing Co., Inc of Pittsburgh, Pennsylvania. For members of the press, to request a review copy, visit our virtual pressroom at
https://dorrancepressroom.com/crossroads-along-the-path/
or to buy the book visit our online bookstore at
https://bookstore.dorrancepublishing.com/crossroads-along-the-path/
Email Dorrance Publishing