Yakima, WA Author Publishes Yakima Valley History Book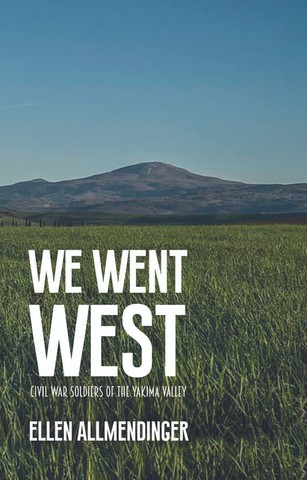 We Went West: Civil War Soldiers of the Yakima Valley, a new book by Ellen Allmendinger, has been released by Dorrance Publishing Co., Inc.
We Went West: Civil War Soldiers of the Yakima Valley highlights the life stories of a small portion of the more than two hundred Civil War soldiers and their families who traveled west after the war and settled in the Yakima Valley. The soldiers' stories briefly touch on their lives prior to and during the war with more detailed information on their lives and accomplishments after settling in Central Washington. The book is of interest to those who are Civil War history lovers as well as Central Washington history. It may also captivate those who are unaware of the vast impact that Civil War soldiers had on the Yakima Valley or their accomplishments. The relevant message reminds readers that although the Civil War occurred on the other side of the country, its post-impact and soldiers played a significant role in the historical development, settlement, and lives of those in the west after the war. No other known book shares the soldiers' stories and their impact on the area. The author's hope is that readers can learn more about the impact of the Civil War on its soldiers, as well as their accomplishments in Central Washington after the war.
About the Author
Ellen Allmendinger lives in the Yakima Valley with her son Zakary and their three dogs. Ellen worked in the civil engineering field for over thirty years. After retiring from the field in 2021 she expanded her role in the research and sharing of local history. Today Ellen leads historical tours at various locations in the Yakima Valley. She is also a public speaker and gives various presentations for both public and private functions. When she isn't sharing history in person, she can often be found conducting research at various archives, libraries, museums, and other locations. As an author, Ellen has written three previous books. She has also written several historical articles. Some of which have been published in the Sunnyside Sun newspaper and the Yakima Magazine. When she isn't being a mom, researching, or writing, she can be found at the Woman's Century Club of Yakima's Donald House where she serves as the House Historian and an Executive Board Member. She is also an active member of PEO, Rosalma, and the Yakima Valley Genealogical Library where she volunteers as a librarian.
We Went West: Civil War Soldiers of the Yakima Valley is a 278-page paperback with a retail price of $21.00 (eBook $16.00). The ISBN is 979-8-8860-4178-1. It was published by Dorrance Publishing Co., Inc of Pittsburgh, Pennsylvania. For members of the press, to request a review copy, visit our virtual pressroom at
https://dorrancepressroom.com/we-went-west/
or to buy the book visit our online bookstore at
https://bookstore.dorrancepublishing.com/we-went-west-civil-war-soldiers-of-the-yakima-valley/
Email Dorrance Publishing