Plainfield, NJ Author Publishes Book on The Mind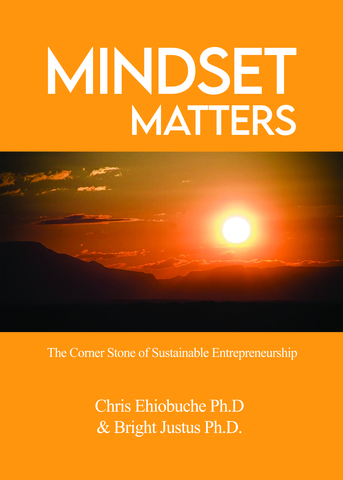 Mindset Matters: The Corner Stone of Sustainable Entrepreneurship, a new book by Chris Ehiobuche Ph.D. & Bright Justus Ph.D., , has been released by RoseDog Books.
Mindset Matters thinks differently about mindset and its applicability. It argues that mindset is never static, and it could be nurtured in a person, the central theme being everyone has the ability to make the right mindset shifts when and where necessary to achieve the highest level of success in business and in any life endeavor.
About the Author
Chris Ehiobuche Ph.D. is an Assistant Professor of Business Studies, Management, Healthcare Administration and Leadership at Stockton University New Jersey and author of "Youth Entrepreneurship" a book which speaks by itself about his passion to inspire his readers to go for their dreams as business owners or self-employed.
Professor Ehiobuche has prolific history that goes beyond the academia, working and providing consulting services for countless organizations in both private and public sectors. He is a knowledgeable Entrepreneur and known for international business development, economic and business re-engineering, organizational and human development, strategies and policy implementation and has been pivotal to many companies entering Caribbean, Central and South American, Asian and now African markets. He serves on advisory and review boards for numerous peer review and professional Journals, including Journal of Global Business and The International Journal of Entrepreneurship. He has authored 5 books and over 50 Peer review journal publications. With Post COVID -19 Pandemic recovery and entrepreneurial sustainability in mind Professor Ehiobuche believes that Mindset is a crucial determinant of success and has in a very simple language proposed a roadmap business development and self-reliance.
Chris Ehiobuche holds a Ph.D. in Business and Management Sciences; he is a husband and a father of two young men. Bright Justus Ph.D. worked in the UK and USA in various leadership roles in banking and higher education. He has a post-doctorate certificate in Global Leadership and a doctorate in Organizational Leadership. He has authored numerous articles dealing wit topics such as social media and Engagement to effect critical thinking, using Dialogue as a tool to teach and learn Entrepreneurship, and a synthesis of models for successful organizational change.
Mindset Matters: The Corner Stone of Sustainable Entrepreneurship is a 278-page paperback with a retail price of $85.00 (eBook $80.00). The ISBN is 979-8-88527-912-3. It was published by RoseDog Books of Pittsburgh, Pennsylvania. For more information, or to request a review copy, please go to our virtual pressroom at
https://dorrancepressroom.com/mindset-matters/
or our online bookstore at
https://rosedogbookstore.com/mindset-matters-the-corner-stone-of-sustainable-entrepreneurship/