Princeton, NJ Author Publishes Poetry Collection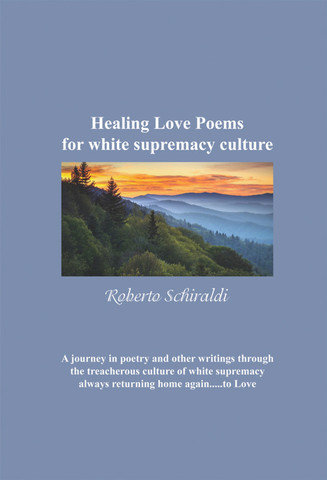 Healing Love Poems for white supremacy culture, a new book by Roberto Schiraldi, has been released by RoseDog Books.
This is a collection of poetry and other works, about healing from the insidious disease of racism, through the greatest power in the universe —- Love. The poems and other writings are interwoven with the lessons of spirituality, nature, Native Wisdom, gratitude, and healing theory and strategies - all through a white male lens.
The poison of racism (at least in the U.S.), is caused by dwelling in a culture of white supremacy. "This culture of white supremacy is a system that founded this country and still runs it. It is a system of power, wealth and control—-where inferiority and superiority are based primarily on race"(from the introduction).
Understanding white supremacy cultural values helps us to see the hurtful impact on our common humanity. Using this clarity, along with a compassionate vision of courageous and loving action, provide a foundation for sustainable racial justice healing and change for us All.
About the Author
Dr. Roberto Schiraldi, EdD, LCP, LCADC is a licensed professional counselor, licensed clinical alcohol and other drug counselor, trauma therapist and racial justice advocate and trainer. Roberto is retired from Counseling and Psychological Services at Princeton University, where he was coordinator of the alcohol and other drug treatment team, and was previously employed in a similar capacity by Temple University. He is a past President of the New Jersey Association for Multicultural Counseling, and has been a member of numerous racial justice organizations, boards, and committees. He is a pipe carrier in the Sicangu Lakota Native Spiritual Healing Tradition, a Vietnam era veteran, and member of Veterans for Peace.
Healing Love Poems for white supremacy culture is a 378-page paperback with a retail price of $23.00 (eBook $18.00). The ISBN is 978-1-6480-4157-0. It was published by RoseDog Books of Pittsburgh, Pennsylvania. For more information, or to request a review copy, please go to our virtual pressroom at
https://dorrancepressroom.com/healing-love-poems-for-white-supremacy-culture/.
or our online bookstore at
https://rosedogbookstore.com/healing-love-poems-for-white-supremacy-culture/