Columbia, SC Author Publishes Book on Workplace Management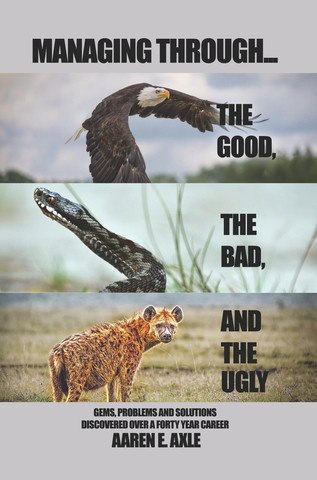 Managing Through…the Good, the Bad, and the Ugly, a new book by Aaren E. Axle, has been released by Dorrance Publishing Co., Inc.
Managing Through…the Good, the Bad, and the Ugly is an autobiography describing different management types the author encountered over his long career. Managing in any walk of life never changes, only the people who fill the role. The diversity of workplace environments does not change the basic character of the manager. The manager in every job is either gifted or misplaced. There is nothing between. The reader, if honest, will decide if he is either capable of managing the situation he finds himself in or is misplaced, and this book might help him or her uncover that answer.
About the Author
The author is now retired and lives in South Carolina. His life has been full and he reflects on his long career. No matter where he has lived, he has always been active in the community and particularly in his church, always in some capacity which involves decision-making or imparting information to those around him. He has served on Church Boards, College Boards, Boards of Corporations, and Mission Boards. The author is married to Carol, his bride of more than fifty years and has three daughters and seven grandchildren. He loves baseball, football, and golf, but learned many years ago that his passion and making a living were not compatible. In the author's case, his real passion is cattle farming, but that passion was not compatible with a wife and three daughters whose lifestyles did not match his passion. He quickly realized that work is work and play is play. Only a few can combine them.
Managing Through…the Good, the Bad, and the Ugly is a 248-page paperback with a retail price of $20.00 (hardcover $35.00, eBook $15.00). The ISBN is 979-8-8852-7236-0. It was published by Dorrance Publishing Co., Inc of Pittsburgh, Pennsylvania. For members of the press, to request a review copy, visit our virtual pressroom at
https://dorrancepressroom.com/managing-through-the-good-the-bad-and-the-ugly-pb/
or to buy the book visit our online bookstore at
https://bookstore.dorrancepublishing.com/managing-through-the-good-the-bad-and-the-ugly-pb/
Email Dorrance Publishing