New York City Personal Injury Lawyer Richard M. Kenny Receives Glowing Review on Birdseye From a Happy Client Regarding the Firm's Services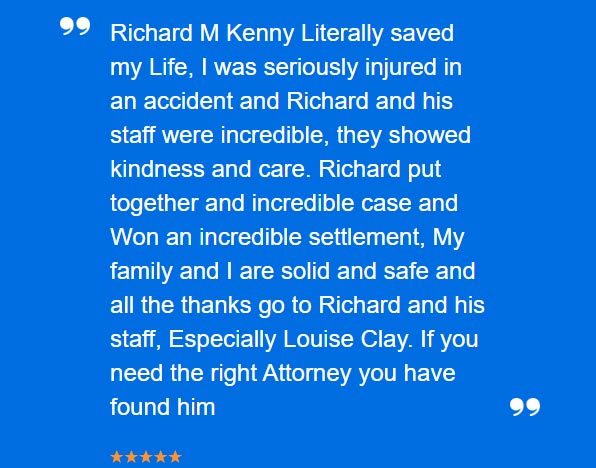 Recently,
The Law Office of Richard M. Kenny
received a glowing review on Birdseye from a happy client regarding the firm's services. The review reads as follows:
"Richard M. Kenny literally saved my life, I was seriously injured in an accident and Richard and his staff were incredible, they showed kindness and care. Richard put together an incredible case and won an incredible settlement. My family and I are solid and safe and all the thanks to Richard and his staff, especially Louise Clay. If you need the right attorney you have found him."
Reviews like this make us proud to do our job, day in and day out. We believe that those who've been unfairly injured as a result of another party's negligence deserve to be fully and fairly compensated for the damages they've incurred.
The Law Office of Richard M. Kenny
offers personal injury services to all types of accident victims, including those who've been harmed in auto accidents, slip and falls, construction accidents, and much more.
Though every positive review brings a smile to our faces, what really makes us happy is knowing that we've made a difference in someone's life. Founded in 2002, over the years our firm has compiled well over 200 5-star reviews on Google, something we are very proud of and grateful for, and we look to these glowing reviews as motivation to continue providing our clients with top-of-the-line legal services they can truly depend on. Just some of the more recent 5-star reviews our firm has received are as follows:
"Mr. Kenny is a diligent attorney with a great staff. He was the only one that would take my case. He listened to what had happened to me and was able to execute a favorable outcome for my accident case. Highly recommend."
"My mother was in a terrible accident, and the situation would appear from the outside perspective to be open and shut. It wasn't, I will not go into detail but know that Mr. Kenny took on a fight most wouldn't. Mr. Kenny fought for my mother for 6 years, fought and won. My mother will always be in pain but she will never worry about anything else because of what this man did for her. Mr. Kenny has the temperament and compassion not normally seen anymore, my family trusts him wholeheartedly.
We strongly recommend his practice for any and all legal matters, he changed my mother's life and while he can't take away her pain he did take care of her worry. Do not hesitate to reach out to Mr. Kenny, he is worth his weight in gold!"
To read more of our reviews, simply visit our Birdseye or Google My Business pages, or if you or a loved one has been injured due to the negligence of another, please don't hesitate to reach out to our seasoned legal team for a free case evaluation today. We are here to listen to your story, inform you of your options, build an effective strategy, and, from there, fight for the full and fair compensation to which you are entitled.
Email The Law Offices of Richard M. Kenny