Hasty, CO Author Publishes Children's Book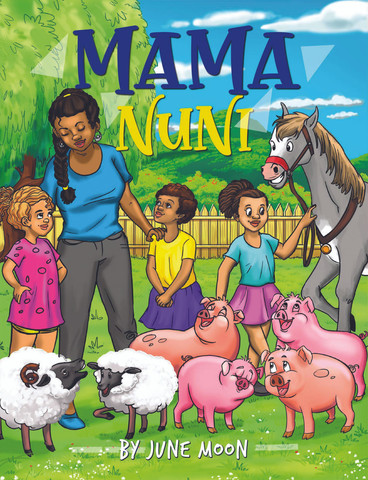 Mama Nuni, a new book by June Moon, has been released by Dorrance Publishing Co., Inc.
Mama Nuni has a big heart and isn't afraid to let everyone she meets know how much she loves them and cares about their well-being. For her, teaching valuable life lessons to girls on her quiet country ranch is the equivalent to heaven on Earth. She knows what she does makes the world a better place, one beautiful soul at a time. When she hires the slightly clumsy and amazingly kind Guy MacFly to be her new ranch hand, she couldn't be more excited. That excitement is challenged when she discovers the girls, she teaches are teasing him and unable to see how important he is, not only as a ranch hand but as a human being. Doing what she does best, Mama Nuni seizes the opportunity to teach them about acceptance, empathy, and self-accountability. Those valuable lessons not only teach them to be better people and to stand up for others, but they teach Guy an important lesson about not losing sight of who he is and his worth. Follow this heartwarming story about the power of showing kindness and love to everyone you meet!
About the Author
June Moon is a man on a mission-a mission to emphasize empathy, understanding, self-awareness, and reasoning in all he says and does. With those most important goals in mind, his journey in this thing called life has taken him in many directions, all of which led him to his most important roles in life as husband and father. From singing and writing songs to a stint as a poet-albeit, not the most poetic being on Earth-to working in schools as a basketball coach, aide in special education, substitute teaching, a child and family advocate for social services, and "Mr. Lunch Lady" at his kids' school, he likes to think his journey paved the way for his ultimate mission. Though not the best coach or the greatest Mr. Lunch Lady, he gave his all and strived to help children give their all in everything they do, with their core values in mind. Beyond his varied work experience and his passion for doing the right thing, June loves basketball, cheeseburgers, his three sons, and his loving wife, whom he affectionately calls "The Boss Lady." Not necessarily in that order. Not bad for a man who spent much of his younger years as a perpetual mess-up, right? No matter what he sets out to do in life-from helping others, inspiring others, raising, and rearing children while still actively trying to figure things out himself, or his unwavering desire to share responsibilities, communicate effectively and respectfully with the love of his life-June never loses sight of what drives him and is unafraid of laughing at himself along the way.
Mama Nuni is a 48-page paperback with a retail price of $23.00 (eBook $18.00). The ISBN is 979-8-8852-7038-0. It was published by Dorrance Publishing Co., Inc of Pittsburgh, Pennsylvania. For members of the press, to request a review copy, visit our virtual pressroom at
https://dorrancepressroom.com/mama-nuni/
or to buy the book visit our online bookstore at
https://bookstore.dorrancepublishing.com/mama-nuni/
Email Dorrance Publishing