Godlan, Manufacturing ERP Specialist, Wins Macomb Business Award - Workforce Champion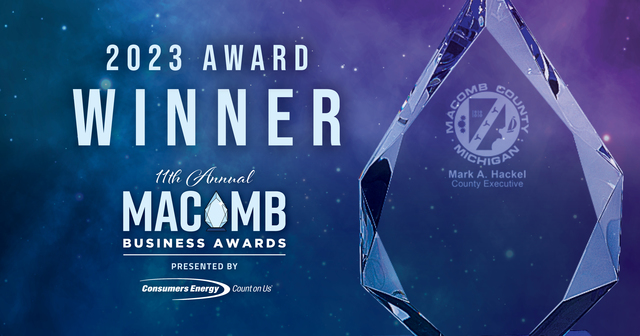 CLINTON TOWNSHIP, Mich., May 9, 2023 (Newswire.com) -Godlan, a specialist in
manufacturing ERP software
(Infor CloudSuiteTM Industrial - SyteLine),
CPQ
(Configure Price Quote) and
industrial automation (
IIoT) and an Infor Gold Channel Partner, announced today that they have been named winner of the prestigious "Workforce Champion" award from Macomb Business. This coveted award is defined as the top company "that demonstrates creativity in response to workforce needs, including talent attraction, employee retention and making a conscious effort to build a diverse, equitable and inclusive workplace for all."
"It's an honor to receive this recognition for a second time. This is a prized award for our organization as it relates directly to the quality of life our team members can experience," said Bobby Rudder, EVP of Marketing, Godlan Inc. "Receiving the Workforce Champion award is motivation to continue our focus on making Godlan an amazing place to work, not only to attract and retain top talent but also to ensure our team can enjoy balance in career and personal life."
Business leaders from across the region attended the 11th annual Macomb Business Awards at the historic Emerald Theatre in downtown Mount Clemens on Thursday, May 4. Macomb County Executive Mark A. Hackel joined Vicky Rowinski, director of the Macomb County Department of Planning & Economic Development, to support nominees and recognize winners in six categories. Godlan was chosen from 11 finalists as the winner of the "Workforce Champion" award. This is Godlan's second award from Macomb Business.
A panel of judges reviewed more than 130 nominations and selected winners in each category. Judges included: Gene Lovell, board chairman, First State Bank; Karen Smith, executive director, Leadership Macomb; Jim Sawyer, president, Macomb Community College; April Jones-Boyle, senior advisor of entrepreneurship and innovation, Velocity; Lauren Abdel-Razzaq, associate editor, Crain's Detroit Business; Kambriana Crank, educator, MSU Extension; and John Paul Rea, deputy county executive, Macomb County. Winners were announced at the afternoon event.
The 11th annual event was presented by Consumers Energy. Additional sponsors include Clark Construction Company, Macomb/St. Clair Michigan Works!, Velocity, First State Bank, Michigan Economic Development Corporation, Macomb County Chamber, Sterling Heights Regional Chamber of Commerce, Macomb Community College, Macomb Intermediate School District, RCO Engineering, ITC Holdings, and Jefferson Street Pub.
For more information, visit
www.macombbusiness.com
.
With an expertise in manufacturing, Godlan offers business consulting, technical consulting and programming, infrastructure, implementation, CPQ Services, IIoT Solutions and Services, and
Industrial IoT platforms
. Godlan has achieved ranking on Inc. 5000 twice, TEC Accreditation for the last ten years, Control Engineering's System Integrator Giants 2023, Infor Partner of the Year, and is an approved Infor Gold Channel Partner serving customers for over 39 years. For more information, visit
godlan.com
.
About Godlan, Inc.
Godlan is a leading manufacturing performance specialist that has been implementing integrated technology solutions since 1984. As an Infor Gold Channel Partner with a focus on manufacturing performance, Godlan supports the implementation of world-class processes and best practices throughout discrete manufacturing organizations.
About Infor
Infor is changing the way information is published and consumed in the enterprise, helping 73,000 customers in more than 200 countries improve operations, drive growth, and quickly adapt to changes in business demands. Infor offers deep industry-specific applications and suites, engineered for speed, with an innovative user experience design that is simple and transparent. Infor provides flexible deployment options that give customers a choice to run their businesses in the cloud, on-premises, or both. To learn more about Infor, visit
infor.com
.
Attachments