Rome, GA Author Publishes Humor Book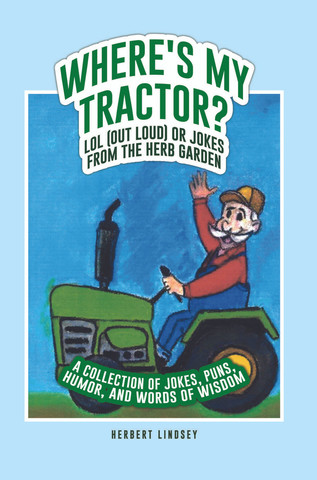 Where's My Tractor? LOL (Out Loud) or Jokes from the Herb Garden: A Collection of Jokes, Puns, Humor, and Words of Wisdom, a new book by Herb Lindsey, has been released by RoseDog Books.
Herb Lindsey was born in 1938 in a small town in northwest Georgia. He was the fifth in a family of eight children. He graduated from high school with honors in 1956, and at age seventeen, he took a position as a drafting trainee and subsequently worked 40 years as an aircraft design engineer. In 1960, Herb married and had three delightful children, who in turn, produced fifteen grandchildren and twenty-nine great-grandchildren. Herb and his wife have lived in six states and Canada, and have been in, or traveled through, all but two US states.
Herb is an introvert, but from early childhood was considered to be the "court jester" of his family. He has always loved to laugh and cause others to laugh. Many years ago, he read a magazine article claiming to contain the ten funniest jokes ever told and indeed they were funny. He decided to copy them into a notebook to share with family and friends. Over time, he added jokes, puns, and other amusing material collected from various sources. Finally, realizing there was so much gloom and doom in the world, Herb felt that publishing this material might alleviate some of the world's melancholy.
Where's My Tractor? LOL (Out Loud) or Jokes from the Herb Garden: A Collection of Jokes, Puns, Humor, and Words of Wisdom is a 32-page paperback with a retail price of $11.00 (eBook $6.00). The ISBN is 979-8-88729-291-5. It was published by RoseDog Books of Pittsburgh, Pennsylvania. For more information, or to request a review copy, please go to our virtual pressroom at
https://dorrancepressroom.com/wheres-my-tractor-lol-out-loud-or-jokes-from-the-herb-garden-a-collection-of-jokes-puns-humor-and-words-of-wisdom/
or our online bookstore at
https://rosedogbookstore.com/wheres-my-tractor-lol-out-loud-or-jokes-from-the-herb-garden-a-collection-of-jokes-puns-humor-and-words-of-wisdom/