Maricopa, AZ Author Publishes Historical Novel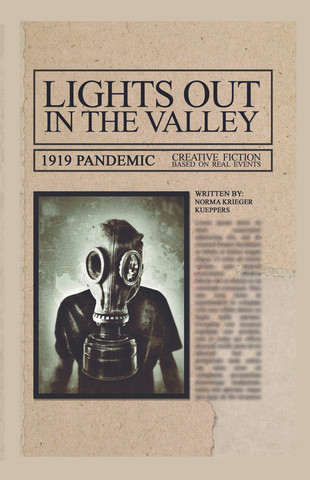 Lights Out in the Valley, a new book by Norma Krieger Kueppers, has been released by RoseDog Books.
Norma Krieger Kueppers' paternal grandmother Laura was thirty years old and married with a family when the Spanish flu swept through the valley, creating losses of families and friends in the Marked Tree, Arkansas, area. It was later exposed as a worldwide pandemic, reaching every continent. Laura perished from the outbreak in 1919.
James Weeks, Kueppers' father, was the historian of the Weeks family. Laura was his mother. He was eight years old when she passed. He was too young to remember much regarding his mother. However, the family kept her memory alive by sharing stories about her.
Intrigued by this family history, Kueppers has brought Laura to life, and created a place for her if she had lived. A collection of her father's memories regarding Laura sparked the spirit within and allows the readers to take this journey with her.
In the book, Angela is portrayed as Laura. Enjoy the awakening as you read each chapter.
About the Author
Norma Krieger Kueppers was born Norma Dean Weeks in Marked Tree, Arkansas, in 1941. Her family then moved to Michigan in 1942. At every opportunity growing up, Kueppers found herself taking writing classes wherever they were offered. She attended Lansing Community College, enrolling in Creating Writing and Watercolor courses. Her poem "My Backyard" was published in Lansing Community College's twenty-fifth anniversary publication.
Kueppers recently became a widow after forty-two years of marriage. She has three grown children and is a grandmother and great-grandmother. In her spare time, she enjoys attending her writing class at the local library.
Lights Out in the Valley is a 194-page hardbound with a retail price of $30.00 (eBook $25.00). The ISBN is 979-8-88729-297-7. It was published by RoseDog Books of Pittsburgh, Pennsylvania. For more information, or to request a review copy, please go to our virtual pressroom at
https://dorrancepressroom.com/lights-out-in-the-valley-1919-pandemic-creative-fiction-based-on-real-events/
or our online bookstore at
https://rosedogbookstore.com/lights-out-in-the-valley-1919-pandemic-creative-fiction-based-on-real-events/