Upper Arlington, OH Author Publishes Lifestyle Book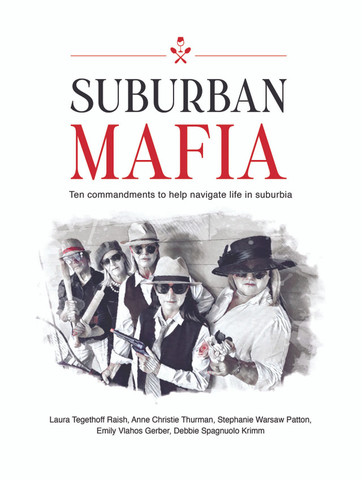 Suburban Mafia: Ten commandments to help navigate life in suburbia, a new book by Laura Tegethoff Raish, Anne Christie Thurman, Stephanie Warsaw Patton, Emily Vlahos Gerber, Debbie Spagnuolo Krimm, has been released by Dorrance Publishing Co., Inc.
What happens when five suburban mothers from different areas end up with too much time on their hands during a worldwide pandemic? The not-so-obvious answer is… they collaborate, get together, and write a book! The outcome is: Suburban Mafia, Ten Commandments to Navigate Life in Suburbia, which is an informative, witty, practical and resourceful guide to living life in the suburbs. Laura Raish is the maestro behind asking friends Emily Gerber, Debbie Krimm, Stephanie Patton and Anne Thurman, to create Suburban Mafia, which has been released. Each chapter covers one of the ten commandments or unspoken rules of living, navigating and thriving in suburbia. These ten commandments originated from real mafioso and were used as the structure and basis of the book, and how to apply them to suburban mom living. With wit, humor, true stories, and even recipes, this book takes you to places such as: with whom to make friends, who also to avoid, how to throw a dinner party and how to navigate all things school-related. Suburban Mafia will make you relate, laugh, learn a little something, and even cook up a new recipe! The five authors and collaborators are not former authors, but they do have one thing in common: they are all suburban moms. Until now, there has not been a book that combines stories, tips, and recipes that specifically targets new residents to the suburbs. This book is sure to create smiles, laughs, and also some very good 'food for thought'.
For more information, please visit


About the Author
Each of these ladies has gained, earned, acquired, sweated, cried, laughed, and mostly smiled through their over 25 years of experience in navigating suburbia. Through those years, they each stepped up to a multitude of varying roles as suburban moms: everything from Girl Scout leader to room mom, volunteer, school auction chair, to committee member, sports volunteer, and food drive chair, event chair, travel agent, tennis player, game night hostess, hosting a girl's trip, book club memberů the list goes on. You name it, and these gals have probably done it, gaining wisdom, experience and joy along the way.

Each author has their own "Suburban Mafia" of cherished friends reaching far and wide looking out for their best interest as well as their family's well-being! May this book - the culmination of their experiences and learnings - extend to all of their dear ones, on to their dear ones, and so on and so onů

Suburban Mafia: Ten commandments to help navigate life in suburbia is a 114-page hardbound with a retail price of $55.00 (eBook $50.00). The ISBN is 979-8-8860-4412-6. It was published by Dorrance Publishing Co., Inc of Pittsburgh, Pennsylvania. For members of the press, to request a review copy, visit our virtual pressroom at [url=https://dorrancepressroom.com/suburban-mafia-ten-commandments-to-help-navigate-life-in-suburbia/">https://dorrancepressroom.com/suburban-mafia-ten-commandments-to-help-navigate-life-in-suburbia/
or to buy the book visit our online bookstore at
https://bookstore.dorrancepublishing.com/suburban-mafia-ten-commandments-to-help-navigate-life-in-suburbia/
Email Dorrance Publishing